On July 1, 2, and 3rd, Passeig de Sant Joan hosted its 21st painting competition and collective exhibition. Displayed along the main road were upwards of forty paintings, all hoping to win prize money and a chance of exhibition. Open to the public, the show drew me in with various styles and concepts.
The contest was curated in collaboration with the Gracia district, the University of Barcelona (U.B.), and Optics University. Four people made up the 2022 Jury who have established experience in art criticism and creativity. It included; Jose Asensio Fernandez, a sculpture master at the faculty of fine arts (U.B.); Josep Claps, an art critic; Ramon Soler, a poet and member of the Catalan art critics; Josep Matheos, a poet and art critic, and lastly Augusto Comamala, a painting professor at U.B.
The contest publicizes first prize receives 2,000 Euros and a diploma, second place wins 200 Euros and a diploma, and third place earns 100 Euros and a certificate. In September, the three finalists will hold a joint exhibition in the Civic Center Sedeta.
One of my favorite pieces was from the abstract artist Carme Florensa Hernandez who paints her "memories" on methacrylate. Hernandez is a Barcelona native, born in 1951, who taught painting for the last thirty-five years but began studying Fine Art after retiring in 2011. The pieces pictured, labeled Vitis vinifera, immediately caught my attention with their transparent canvases, water-color style, and abstract shapes.
According to her website, they are acrylic on methacrylate, also known as polymer plastic. Hernandez's goal is to evoke a memory, whether a color, landscape, noise, or smell. She begins from experience in her memory, focusing on an image she captures on methacrylate. When looking at the piece, I had no idea how one would go about creating it. Hernandez clarifies that she paints with a lot of water and an extended drying time, so the pigment leaves lumps behind. Rarely does she use a brush, as she likes to "let the materials act on their own", similar perhaps, to how memory works. She usually does not give her paintings a title because she does not want to force the audience to see her memory but instead allows them to feel what the painting suggests.
As I continued walking through the contest, other pieces, such as Emma Martin's diptych, which won 3rd place, caught my eye. Martin made these oil portraits, titled "Sick Again" and "Nostalgia" (pictured below on the right) on 100 X 81 cm and 65 X 81 cm canvasses. Martin is a contemporary figurative painter and an art student graduate from the University of Barcelona. According to her website, her art deals with "disfigurement, inexpressiveness, and malformations." Her paintings' cold color palette, expressionless faces, and personal bedroom landscape paint a solemn lifestyle and draws in the observer. Her pieces successfully bring the audience into a personal and painful universe.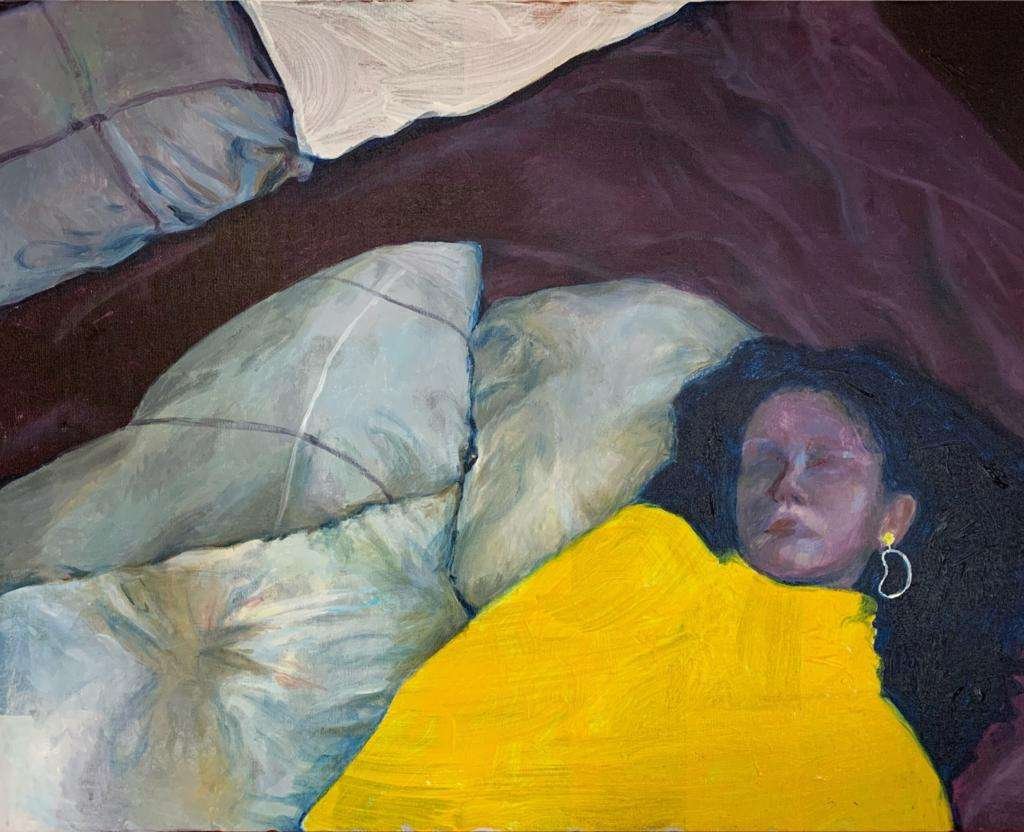 Another artist that distorted faces in their portrait was Jaume Carols (pictured above on the left). His acrylic paintings' use of texture and color was intriguing. The piece contrasts its' solid background color with splotchy diverse colors making up the subject. I also enjoy Carol's placement of a single eye on the forehead with no other facial features; it almost forces the audience to create their own face from the contrasting colors and values that make up the face.
Near Carol's portrait, I discovered Lurdes Serra Fernandez's piece, "A New Day". The piece's multifaceted nature made it an exciting painting to unpack. With cats in windows, chess pieces, mirrors, and a piece of cloth blinding the female subject, a lot was going on. I also found it interesting that this artist chose to distort the subject's face, like Juan Carol and Emma Martin.
As I wrapped up my visit, I was intrigued by the clown portrait by Carla Garcia Castello (@cuerpo.cuerpo), an abstract oil painting "Accident on the Ice" by David F, and many more. There is not enough room to write about all the artists at the exhibition, which is very telling of how skilled the painters and sculptors of Barcelona are. If you are interested in seeing what local artists and students are doing, I urge you to attend the finalist exhibition in September!
By Kathryn Dorfman
About the author
My name is Kathryn Dorfman, and I am a rising junior at the University of Michigan, double majoring in Creative Writing and Psychology. I am studying abroad in Barcelona for 8 weeks and am so grateful to have the opportunity to write for Frikifish. As the granddaughter of two artists, I learned to draw before I learned to walk, and can not wait to experience all the art Barcelona has to offer. In my free time I enjoy singing, painting, and reading. I look forward to writing and hope you enjoy my discoveries!