Villa del Arte is a contemporary art gallery functioning since 1999. Representing over forty national and international artists, the gallery has four different locations in Barcelona and Amsterdam. I visited the gallery located on Passeig de Gracia and I was very pleased with the combination of mediums, from large-scale paintings and wooden sculptures to resin dome canvasses.
The first piece to catch my eye was "Someone like You" by Lluis Cera. It was a 19 kg sculpture made from Carrara marble and Calatora stone. Another statue of his, titled "Gedächtnisraum VII Stars" also drew my attention. The pieces were not just made of iron, marble, and rope but also incorporated sheet music and lyrics carved into the iron slabs. The shapes of the stone make the literature a "3D" experience.
According to the gallery's website, Cera emphasizes "a harmonious combination of literature with his sculptures." He includes fragments of texts applied to the sculpture's surface. Sometimes these texts are in different languages, aiming to combine the familiar with the unfamiliar. Furthermore, in "Someone Like You," Cera combines or "ties" the stone and the sheet music with rope. This blend of sculpture with text and sheet music makes the piece a poetic and musical demonstration, combining different expressions of creativity.
My favorite pieces were by Miquel Aparici. Aparaci's sculptures are all made from old objects, which he recycles to have new use or "life" in a sculpture animal. His first sculpture was "Pájaro azul y rojo". The bird's contrasting blue and red colors were eye-catching, but the recycled materials most impressed me. Aparici has crafted more than 350 pieces, which he uses old utensils and molds to produce. The piece was incredibly entertaining as I picked materials I recognized, such as its button eye. Aparaci also had a large-scale sculpture titled, "Guepardo" or "Cheetah", which was 75 x 155 X 30cm. This one was even more striking. Aparaci's ability to preserve the animal's natural colors while using recycled materials is impressive. Still, his mastery of geometrical shapes and using them like puzzle pieces is even more so. In the torso of "Guerpardo," one can read the label "Derbi," giving away that it is a piece of an old motorcycle or moped, which he has incorporated into the cheetah's body.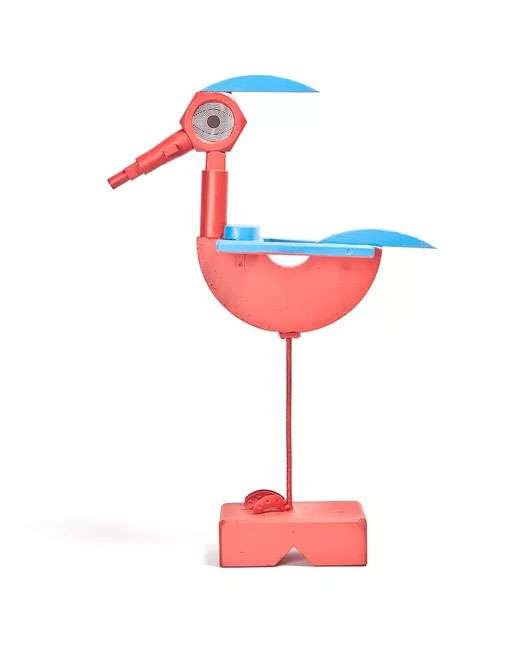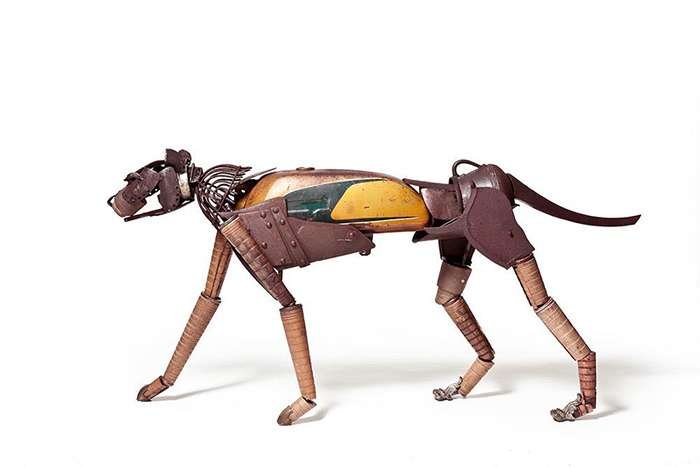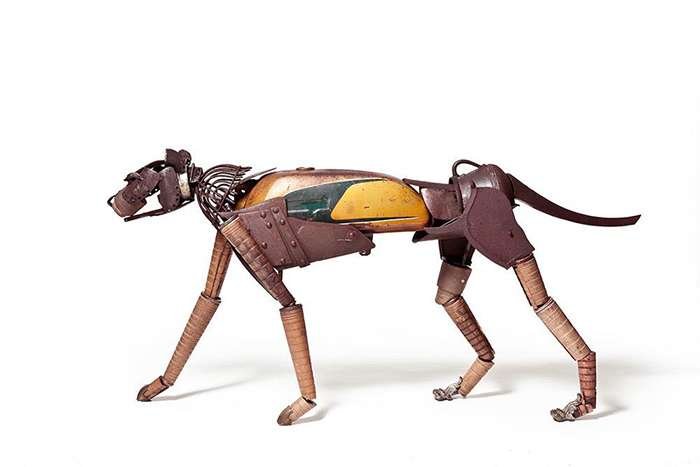 The gallery's next piece that intrigued me was "Baile," a large mahogany sculpture by The Ingravidesa Sculpture Alliance. The Alliance is a group of designers and craftsmen who collaboratively sculpt abstract pieces inspired by nature. One project can usually take months. The wood from "Baile" comes from old timber industry trees. The Alliance was inspired by the free forms of these trees and recreated them. The free-flowing shape of "Baile" or dance almost mimics the "dance" or movement of trees and includes gold patterned layers.
The last pieces that stood out were Nemo Jantzen's "New Blue" and "Oops" mixed-media portraits. Jantzen is an established fine artist and graphic designer who aims to challenge the concept of perception. The two pieces I saw were made from resin domes. Jantzen collects his photographed images and puts them into handmade resin spheres, which he then combines to make giant portraits. When observing the portraits, one can see an entire image but also all the "pixels" or spheres that make it up. Going in closer, I could even read that some of the domes included cut-off quotes and phrases such as "Your own beauty" or "Got away in my mind". These are the pieces one must see in person to appreciate fully.
If you are interested in mixed-media art and sculptures, Villa del Arte is the perfect gallery to see when you have a few hours of free time. It is open all week, 10 am-8 pm. I recommend stopping by to challenge your mind and perception of what sculptures can be.
By Kathryn Dorfman
---
About the author
My name is Kathryn Dorfman, and I am a rising junior at the University of Michigan, double majoring in Creative Writing and Psychology. I am studying abroad in Barcelona for 8 weeks and am so grateful to have the opportunity to write for Frikifish. As the granddaughter of two artists, I learned to draw before I learned to walk, and can not wait to experience all the art Barcelona has to offer. In my free time I enjoy singing, painting, and reading. I look forward to writing and hope you enjoy my discoveries!