KhaOs has recently inaugurated a new art space in the Montjuic district, just a stone's throw away from la Fira. Unlike traditional galleries, the team at KhaOs considers themselves story-tellers. Each exhibition is crafted as a unique and personalized narrative, featuring extraordinary individuals who embody curiosity, boldness, and a nomadic spirit.
The reputation of KhaOs has been built on its discerning curation of art collections and stunning exhibition locations. Rather than identifying as a gallery, KhaOs sees itself as a space for sharing, dialogue, curiosity, and poetry. The team embraces a passionate and unpretentious approach to experiencing and discussing art. They welcome not only art enthusiasts and collectors but also passers-by and neighbors to explore their space.
The new art space in Barcelona has quickly become a must-visit destination for those seeking one-of-a-kind artworks. KhaOs has consistently demonstrated an eye for discovering emerging talents who are destined to become tomorrow's stars. Among the rising artists featured are Jordane Saget and Kenta Umemoto, while iconic works like Seb Janiak's "Daft Punk Discovery 1" (2001) share the spotlight with established artists like Henri Foucault and Keila Alaver.
Whether one has an appetite for art appreciation, aims to start a private collection, or desires to enrich an existing one with renowned or up-and-coming artists, KhaOs offers an enticing journey of artistic exploration.
The curator has meticulously designed the space, ensuring that art is presented as a continuous story, flowing seamlessly from one exhibition to the next, with a focus on spotlighting the artists' work. KhaOs defies conventional boundaries and labels, opting instead for an open and inclusive environment. They cordially invite visitors to book free appointments and extend a warm welcome to all art enthusiasts.
KhaOs recently launched a new art space in the Montjuic district, just a few steps away from la Fira. The team presents itself as story-tellers rather than a gallerists; Each exhibition is a tailor-made story with extraordinary people: nomadic, curious and bold.
KhaOs founded its reputation with demanding collections and breathtaking locations for their exhibitions. With strong beliefs about the role of art, KhaOs refuses to define itself as a gallery, but as a space of sharing, dialog, curiosity and poetry. Art is devoured and discussed with passion and simplicity, and the team makes a point to open its doors to passers-by and neighbours, as much as to art lovers and collectors.
Their new space in Barcelona promises to be a must-see location to find unique artwork. KhaOs has already proven to be consistent in selecting impeccable collections with a flair to unearth the artists of tomorrow. Among rising talents such as Jordane Saget and Kenta Umemoto, you won't be surprised to find Seb Janiak's "Daft Punk Discovery 1" photography artwork (2001) alongside artists such as Henri Foucault and Keila Alaver.
KhaOs offers a journey of choice for anyone with an appetite for art, the desire to start a private collection or to enrich their own with listed or market ascending artists.
The curator designed a space where art is told, as in a story, from one exhibition to another; where the work of the artists is an absolute priority. KhaOs renounces boundaries and labels. KhaOs offers free visits by appointment with a warm welcome to all.
"Our ambition is to inhabit spaces to show art differently. Art must always reinvent its place. Fairs, shows, galleries, so many places that we wanted to forget and to invent something else, to do it all differently."
Between October 13th to the 21st KhaOs has welcomed more than 23 artists, 160 works of art and more than 1200 visitors to its location in Paris, France. And in just one day—September 15th—more than 300 visitors came to see nearly 80 artworks exhibited by two artists in the new Barcelona location.
KhaOs Featured Artists
Seb Janiak
Seb Janiak is a photographic artist whose work explores conditions in which opposites can coexist, revealing the visual characteristics of the hidden forces that shape the physical universe. He creates images that blend science with creativity, analytics with the poetic. He lives and works in Paris, France.
Janiak began his career as a graphic designer. While freelancing, he engaged with state-of-the-art technology, becoming a pioneer in the field of digital photography. His work gained him global attention, and he expanded into directing music videos, fashion photography, and finally into fine art.
His work thus serves as a photographic bridge between data and creativity. In fact, he believes there is no separation between science and art—the apparent dichotomy is only a way of conceptualizing the multiple simultaneous states of being at work in the visible universe.
Keila Alaver
Praised by Felipe Chaimovich, curator of the Museum of Modern Art of São Paulo (MAM), Keila Alaver is an artist (born 1970, Santo Antônio da Platina, Brazil) currently based in São Paulo. She was raised in Santo Antônio da Platina in the state of Paraná in the south of Brazil.
Due to the demands of a future career, as with a lot of young Brazilians from the countryside, she made the inevitable move to a large city, and in 1996 graduated from Fundação Armando Álvares Penteado (FAAP), São Paulo in visual arts.
The collision between her rural past and the new metropolitan art-world reality determined the beginning of her career and still echoes in many moments of her work. Her production moves through different techniques: painting, sculpture, photography, silk screen, but there is no chronological rigidity in her use of media. Alaver is currently working in the Education Department for the Museu de Arte de São Paulo (MASP) and is represented by Galeria Luisa Strina in Brazil.
Henri Foucault
Born in 1954 in Versailles, France, Henri Foucault studied at the Beaux-Arts School of Paris in the sculpture section of Isabelle Waldberg and got his diploma in 1981. Teacher at the National
School of Decorative Art of Paris, Henri lives and works in the outskirts of Paris. Sculptor, photographer and videographer, Henri Foucault's work is built with a singular approach using light to invent new forms of perception. By confronting two opposite practices, the slow build of a volume and the striking speed of the photographic act, emerges the possibility to merge sculpture and photography.
Kenta Umemoto
Kenta Umemoto is a photographer based in Paris. He was first acquainted with photography during a lecture at the University of Meiji. He then started exploring the craft while producing still lifes for a traditional kimono company and Shiseido cosmetics. Over the years his visual interests expanded to beauty, flora and landscapes.
Umemoto is now developing intersections between painting and photography using both digital and manual processes with unique vivid usage of colors such as Ukiyo-e and classic Japanese comics. His clients include Vogue Paris, Bvlgari, Calvin Klein & Shiseido.
Kid Pier Esparre
"I voluntarily deify the shoe box, an object of fascination and passion. Nevertheless, this sculpture cannot be reduced to a form of deference that is not without resemblance to religion.
Totem also deals with accumulation, through its structure. When I think of this immoderate passion which is costly and "spatiophagous", I cannot help but see in it a certain form of ridicule bordering on neurosis.
The art series « Nyan Cat » is the next phase of a project called «My View ». Pier Esparre's concepts always evolve around the look at one's self and contemporary testimonies, articulated by the viral films phenomenon. For Pier, viral films and graffiti art have a common denominator, the notions of creations which are free, shared, are composed with avatars and with a great sense of freedom."
Jordane Saget
Jordane Saget is a contemporary artist and street artist based in Paris. Like Keith Haring in the streets of New York in the 1980s, Jordane's work shapes the identity of today's Paris. For over a decade, Jordane has developed a unique visual style, based on a trio of evocative yet enigmatic lines, becoming a distinctive element in the Parisian street art world. Since 2015, he has been roaming the streets of Paris drawing his lines with chalk or brushes – without ever signing his work. In a few years, he has created nearly 2000 works, ephemeral or permanent.
More and more noticed, his work has been the subject of several exhibitions and leads to more and more collaborations with various artists and organizations: Jean-Charles de Castelbajac, Agnès b., Printemps, Les Enfoirés, la Samaritaine…And the lines continue to weave.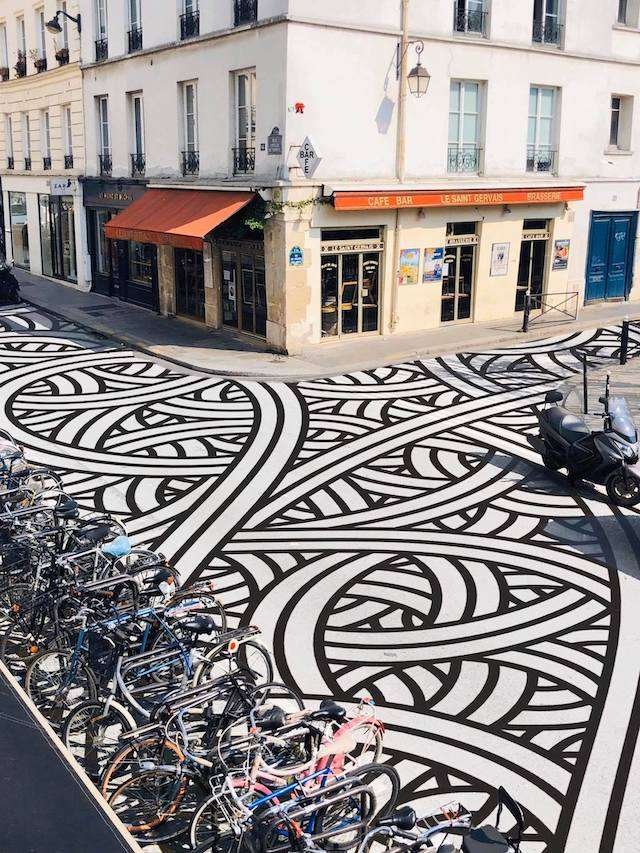 Carlos Sanchez Alonso
Carlos Sanchez Alonso was born in Spain in 1963. In 1989 he graduated from the BBAA, University of Madrid. Professor of Analysis of Forms in Architecture at the University Alfonso X El Sabio (Villanueva de la Cañada, Madrid), Professor of Techniques of Expression and Representation of Interior Architecture courses at the Department of Construction of the Polytechnic University of Madrid; Carlos Sanchez now focuses exclusively on his work as an artist sculptor.
He has had more than twenty-three solo shows, has participated in numerous group exhibitions and has received various awards and grants for his work. He has also exhibited internationally in various art fairs: London, Brussels, Miami, New York, Madrid, Barcelona. He recycles materials such as wood, paper, metal, books to sublimate them into works of art with a singular architecture. Carlos Sanchez Alonso's work reflects a real ability to transpose plastically the results of his research. Thus, each work is a challenge in itself, articulated around the architectural theme of form-space.
Rationality and intuition respond to each other in each sculpture and contribute to the exploration of volumes and transparencies, of the expansion of bodies in space, of the incidence of their opposition or their association.
Each work finds its own reason for being. It follows his concern for tectonics and super-impositions, which require the viewer to approach each sculpture from different angles and points of view. His work is readable at 360°. The works seem to be unequivocally impregnated with the experience and teaching of architecture.
Carlos Sanchez Alonso's professional experience, far from opposing his career as a sculptor, manages to merge into a harmonious synthesis of major significance for the whole of his work.« There is above all an indisputable desire to give back to words, as well as to his works, their freedom. »
More Featured Artists
LAURENT DESCOTILS
BRICE MARE
ELVIRE BONDUELLE
VINCENT DESCOTILS
ALEX BOUFETTE
FABIEN CONTI
MICHEL DECTOR
KIAMA SORLI
VICTOR CORD'HOMME
LAURENT GONGORA
REBECCA TANDA
CÉCILE DACHARY
LAURENT LACOTTE
SANDRINE ELBERG
GABRIELLA VANZETTI
JULIE GENELIN
CATHERINE VAN DEN STEEN
AGUSTINA ROS