M.C. Escher was a master graphic artist who caught the attention of people around the world in the mid-20th century. His work started to get noticed by print collectors, followed by scientists and mathematicians, and finally caught mass appeal in the late 1960's. Even if you don't recognize his name, you have probably seen some of his work.
Escher made more than 2000 drawings and sketches in his lifetime. He is most famous for his so-called impossible drawings, such as Ascending and Descending as well as Reptiles and Drawing Hands.
Through the Eyes of Escher
The exhibition currently running in Barcelona's Maritime Museum is a unique opportunity to learn more about M. C. Escher and see more than 200 original pieces in person. This is the largest collection of his work to be exhibited to date.
The Maritime Museum is a beautiful setting for this show. You can access Sala Gran de las Drassanes Reials—the new exhibition space—through the courtyard with access on Avenida de les Drassanes. The building is nice and cool in the summer, making it a great place to escape the heat in the middle of the day. Before or after walking around the show, you can grab a drink or a bite to eat on the lovely terrace in the courtyard garden.
Escher exhibition at the Maritime Museum.
The price of entry is 13 Euros and you can easily spend two to three hours if you watch the full video presentations and spend some time learning about the experiences and travels that influenced Escher's work.
I especially enjoyed seeing his realistic drawings of landscapes and architecture in Italy, where he lived for more than a decade. You can see in this early work that he was fascinated by contrast and perspective from the start.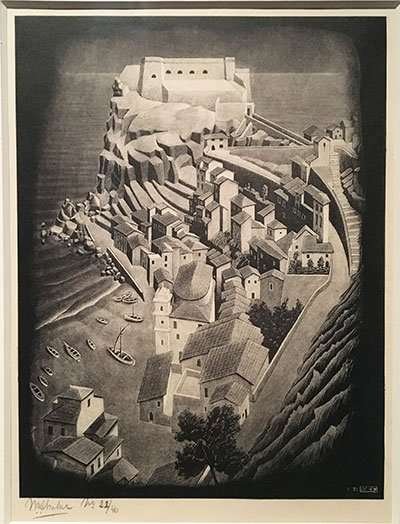 Drawings at the Escher exhibition in Barcelona.
Escher also visited Southern Spain in 1922 and 1936 and the regular geometric figures in the Moorish architecture of the Alhambra in Granada and the Mosque in Cordoba piqued his interest and fascination. This influence can be seen in his works exploring abstract perspective and geometry, such as in the lithograph High and Low.
Combining fantasy and geometry
Escher plays with symmetry, perspective and impossible spaces. The exhibit not only provides clear examples and explanations of his work, but also provides a collection of fun and interactive installations that invite visitor participation.
We adore chaos because we love to produce order. 
-M.C. Escher
Explore concepts hands-on with interactive wall displays (gel is provided) or step into a world of mirrors to play with symmetry. There are even installations to take your own unique selfies or recreate your version of an Escher artwork.
Finally, you can see first-hand how Escher's work has influenced and merged with popular culture. TV screens showing his work in movies as well as black light posters, popular album covers and more are all on display.
The Escher exhibition is on display until September 26th, 2021. Learn more about this exhibition >
*The Escher exhibition is not included in the free entry to the Maritime Museum on the first Sunday of the month and Sundays after 3pm. (More info on that here >) There are discounts for groups and students.