The next best thing to making your own Christmas presents is buying handmade gifts from local artisans and makers. Each year there are many Christmas markets in Barcelona where you can buy handmade decorations, gifts and goodies.
The more well know markets of Santa Llúcia and Sagrada Familia are the best markets for Christmas decorations, trees and mistletoe. Other markets and pop-up events are hosting artists and makers who sell handmade products and gifts.
Events are listed in order of starting date!
Pop-up and Christmas Markets in Barcelona
Nov 26th - Dec 23rd
Fira de Santa Llúcia – The city's official Christmas market takes place in front of the Cathedral in the Gothic Quarter with with 285 stands. This is the oldest Christmas market in Barcelona, dating back to the 18th century. You can mostly find nativity scenes and figures, trees, wreaths, and mistletoe. There are also some stalls selling handmade products and accessories, clothes, jewellery, decorative objects and gifts. The fair runs through December 23rd. Learn more >
Nov 27th - Dec 23rd
Fira de Nadal de la Sagrada Família - Similar to the Fira de Santa Llúcia in the city center, the Sagrada Familia Christmas Market sells Christmas decorations and snacks such as roasted chestnuts and churros with hot chocolate. It's held in the park beside the basilica and takes place from November 27th until December 23rd. Opening times are from 10am to 9pm. Learn more >
Weekend Dec 4th & 5th
Palo Alto Holiday Market - You will find local designers, music and street food at Palo Alto. Special schedule in two visiting shifts: From 12h - 17h and from 17:30h to 22h. From 17:00 h. at 17:30 h. the premises will be evicted to make way for the second shift. get your tickets in advance. Entry is 5 Euros. Learn more >
Dec 5th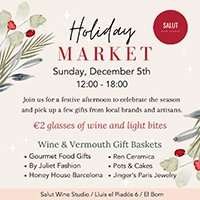 Holiday Market in el Born - Join local makers in el Born at the Salut Wine Studio on Sunday December 5th from 12-6pm. Wine, vermouth and lite bites will be served alongside the artisan market. Calle Piadós 6.
Dec 9th - Jan 26th
Christmas Market of Port Vell - In the Plaza de la Portal de la Paz, next to the Columbus monument at the port. This fair is filled with stalls and Christmas activities. The stalls will be wooden in the style of the traditional European Christmas markets. There will be decoration, food, crafts and gifts. There will also be a gastronomic area and a stage where shows will be programmed. Learn more >
Weekend Dec 11th & 12th
Aquistart - A group of local artists are coming together on December 11th and 12th to offer a Christmas market in Poblenou. Calle Pallars 304. In the evenings there will be live music, spiced wine and good vibes. @aquistart
BCN Makers - This winter BCN Makers reopen their doors for another pop-up market with local, handmade products. The Makers of this edition fill their stands with clothing, accessories, decorative objects, designer furniture and much more. Yes, all handmade in Barcelona. Learn more >
Espai NauArt - This creative coworking space for local artists will open its doors for two days with art for sale, music, video art and a collective expo from the resident artists. Calle Espronceda 154 in Poblenou. @espainauart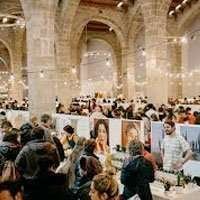 Festivalet  Many different artists, makers and designers will meet in Festivalet to show, promote and sell their self-made, beautifully crafted products. During the past 11 editions, Festivalet stands out as one of the leading handcraft fairs in Spain and Europe. It is the perfect place to buy the most original Christmas presents directly from the creators. 2 Euro entry. Learn more >
Heaven - A Christmas pop-up market at a beautiful 60m studio with an enchanting terrace in Poble Nou! Recycled fashion, homemade natural skincare, jewelry, children's books and artisan treasures. Casa Lazar Pere IV 29, 7-4. @heavenmassagebarcelona
Dec 18th
Christmas Market on Rambla de Poblenou- On Saturday December 14th the local artisans of Poblenou come together to offer handmade gifts and products on the Rambla de Poblenou. Open from 10am to 8pm. Learn more >
Weekend Dec 18th and 19th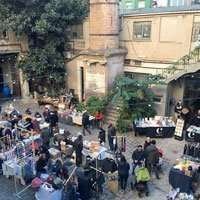 Lehmann Factory Christmas Market- This weekend the factory opens it's doors to the public, offering artisan and designer goods. You can find all kinds of products: books, jewelry, art, fashion and accessories, toys, crafts, ceramics and street food. Learn more >
Dec 17th - Jan 6th
The Fira de Reis - The main day for giving and receiving presents in Spain is Kings Day (dia dels Reis Mags) which is January 6th. This "Kings Fair" runs from December 17th until January 6th, selling mostly toys and gifts for children. It is located in Eixample, on Gran Via between Plaça de la Universitat and Carrer Calabria. Opening times are from 11am to 10pm. Learn more >
Dec 22nd - 24th
Design Market Barcelona - The Design Market Barcelona is back this year, the benchmark Christmas fair for the city's lovers of good design thanks to a painstaking selection of its products and its exceptional setting, the Disseny Hub Barcelona. Check out the best of today's creators, new talent and the most relevant brands at the cutting edge of independent design. Learn more >