The international artist Jorge Rodríguez-Gerada creates a beautiful tribute full of love and tenderness to his son Neuquén, who passed away in 2020. The mural was created with the help of his wife, photographer Ana Álvarez-Errecalde, and their children Milla and Alén.
We hardly stop to think about the curative power of art and how it can shed light even in the most difficult moments of our lives. One of them, without a doubt, is losing a child. In July 2020, Jorge Rodríguez-Gerada and his family had to say goodbye to Neuquén, his first child. He was 20 years old.

An unimaginable pain, which has come to life and sense in a wonderful mural in Badalona where the artist and his son merge in an eternal embrace. Because only whose who are forgotten die.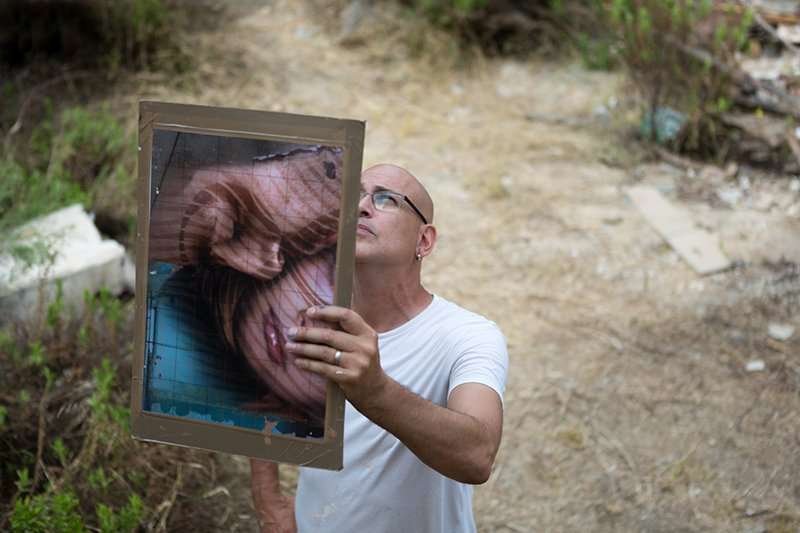 A mural created in the framework of a documentary that the Badalona City Council decided to keep permanently
The first mural that Jorge Rodríguez-Gerada made when he arrived in Barcelona 20 years ago was also a portrait of Neuquén. Years later, the broadcast LA PELL DELS MURS (The Skin of the Walls) decided to dedicate a 30mn documentary to the artist, produced by Patricia Fombella and Santi Suarez and directed by Laura Herrero Garvin, in collaboration with Montana Colors.
Located next to the Badalona train station, "Siempre" was carried out in 2 phases, and the City Council, upon seeing the work, decided to make it permanent. They enlarged the wall, fixed the lot, and the artist had access to the entire wall in order to expand the portrait.
"Siempre", a special artwork created in family
Jorge Rodríguez-Gerada is known for gigantic portraits of unknown faces or a mixture of many different faces expressing diversity, empathy and moral values.
He also created many works where his family served as inspiration, and in the same way this time he represented himself with his son, which is one of the very few times he painted himself.
Ana, Milla and Alén were present in every part of the creation process, sharing beautiful and intense moments with the production team. As Gerada declared: "We decided to not create a line between life and art. It makes total sense then that my whole family was there for such an important creation. "
"Siempre", a mural following the artistic evolution of Jorge Rodríguez-Gerada
For the last 2 years, the artist has focused on working on lines and movement, which allows him to play with various textures and techniques.
To Neuquén, the great traveler
When I first arrived in Barcelona in 2001, the first mural I ever did was of my son, Neuquén, and here I am, 20 years later, creating a mural that combines so many things that he taught me throughout his journey by our side. It is now where his mother, brother and sister went up on the lift with me to help me create this homage to him.
Neuquén showed me so much, and I feel like a lot of the things I do today as an artist, with all the scale and complexity, are not barriers for me because caring for him showed me what true barriers are. All the other things that we let stop us are usually just in our heads.
Thank you beautiful, tender, wise, Neuquén for expanding my horizons in art, life and love.
Thank you Ana Álvarez-Errrecalde, Milla and Alén for being such an important part of creating this mural and everything else in my life.
---
Jorge Rodríguez-Gerada is a contemporary Cuban-American artist living in Barcelona, Spain. He is internationally recognized for creating his works on a large scale in urban space, sometimes so large that they can be seen from space and photographed by satellite. He is recognized for using walls and streets as canvases and citizens as role models to create powerful works around the world.
Born in Cuba and raised in the United States, Jorge began his career in the early 1990s as one of the founding members of the Culture Jamming movement in New York. Since then, he has perfected his artistic direction as a muralist, sculptor and land art artist.
Gerada has created a number of important large-scale works, including a portrait in Queens, New York, in memory of the late Dr. Decoo, a Latino pediatrician who lost his life after fighting the pandemic in New York City. Jorge has just finished a commission to create some mural designs for the Spanish Pavilion at the Dubai World's Fair.
Gerada has collaborated with multiple organizations and institutions such as the Google Research Laboratory, the Smithsonian National Portrait Gallery, the United Nations Sustainable Development Group, to contribute to positive initiatives and projects. His work has been featured in prestigious media such as Time, The Washington Post, Art Forum, CNN and PBS, among many others.
---
Read more about street art in Barcelona >