Linda Rice (aka Lady Alchemy) is an Irish artist based in Barcelona. She works primarily with clay; exploring themes from the natural world and from the everyday human experience. Her work is full of textures and patterns, with an an aura of mystique and magic. At times she combines clay with other mediums to make unique sculptural pieces that bring movement and fascination into the room.
Today on Meet the Makers, we asked Linda about her influences and inspirations; about her work flow and her new exhibition coming up this month.
Hi Linda, can you tell us a little bit about yourself; where you come from in Ireland and how you've come to live in Barcelona?
Hi Amelia, and thanks for having me. I am Irish and come from a seaside town called Tramore, Co. Waterford. It is a picturesque town and a popular tourist destination. I am from a large family with four siblings. My mother was a painter and could turn her hand to all creative pursuits. My father was an engineer with Waterford Crystal who understood and supported my creativity. He encouraged me to study art, travel and work in areas I loved. I was very lucky to have such generous and open minded parents.
I went on to study ceramics in the Crawford college of art & design in Co. Cork. In total I studied eight years in design. I have a BA in ceramic design, a qualification in interior designer as well as a post graduate in art teaching. I also studied a short course in art therapy. After living in Cork for almost two decades I felt the itch to move to another country. I always loved Spain, especially Barcelona. The street art, the architecture, the artists that mark the city made it an easy choice for me. With the support of my employers in Ireland I took a three year sabbatical. That move was in 2013 and I am still here living the artists' dream.
How did you first start dedicating yourself to art professionally?
At the beginning of my sabbatical in 2013 I was working at the art school Estudio Nomada Barcelona as their marketing manager. I threw myself into being a full time artist while working at the art school. I helped organise daily workshops, lectures, field trips and creative tasks that also directed me in my own creative process. A year later I took a space at El Torn Barcelona which is a school and studio for ceramic artists. I have been there ever since. A fun friend and I decided on an artist name which combined my ideas on life, art and creativity. Lady Alchemy Linda Rice was born in 2015. I suppose it is a playful way to interact with the art world. Creating a super hero character.
What were some of the challenges as an artist moving from Ireland to Barcelona?
I was ready for an adventure in life. As a person who went to art college I was prepared for the highs and lows that come with practicing art. I had the best education in ceramics but the best part of it was learning how to handle criticism and disappointment. Not taking life too seriously is something I apply to my process. People get caught up in the final product but I have learned to enjoy the process. All disappointments are an opportunity to find a better solution. I apply that theory to life and my creative practice.
What's your favourite part about living here? What do you do for fun?
In Barcelona I am very happy just being an observer, visiting art galleries and walking through the streets admiring architecture. I enjoy cycling my bike through the city feeling the vibes and the freedom that comes with that. My partner is very creative and shares my same interests so we are well suited. We love flea markets, the sea, camping, the garden, biking, music concerts and cooking. Life in Barcelona is never dull. I once told a friend when she arrived to Barcelona that you can fit three days into one day in this city. She later reaffirmed my observation.
Your work seems to come in batches of inspiration. Can you tell us what a new idea feels like for you? Does it come fully-formed or bit-by-bit?
With my studio practice I always keep my hands busy with small projects in-between big commissions. I love sketchbooks to document ideas and concepts. I have so many sketchbooks now that I can pick one up and look for ideas to apply to new projects. I work very fast in clay, but that only came after years of practicing every day.
My current exhibition had a definite starting point. At the end of 2020 I was asked to make a pre christian Celtic wedding stone for a client in Ireland. When researching the Betrothal stone, I remembered the beauty of Ireland, how simple and honest life was. How I am so proud to be Irish. To be from a land known for its mysticism, culture and magic.
With this in mind and the global pandemic that was rumbling outside. It seemed our only connection to loved ones was via the internet. The digital world took over our homes and overwhelmed me. The idea of letter writing has almost completely disappeared. It made me think about Ireland and how simple life was. I thought about the people who worked with their hands, the fishermen, the farmers and the house wives who don't rely on the internet to function on a daily basis. In a way, my current exhibition is anti technology. It is also a homage to my loved ones and ancestors.
Can you tell us a little more about how you use the concept of biophilia in your work?
Biophilia is the love of nature and the connection to it that inspires on a daily basis. It was a concept commissioned by ADIC Barcelona for the Dutch company Vanderlande. I was to create relaxing zones at its Spanish headquarters. When introducing more biophilia into our working lives we create more peaceful and productive environments. Creating natural installations in an office allows the staff moments to disconnect and regenerate the mind, body and soul. This creates more productive creative individuals within a company.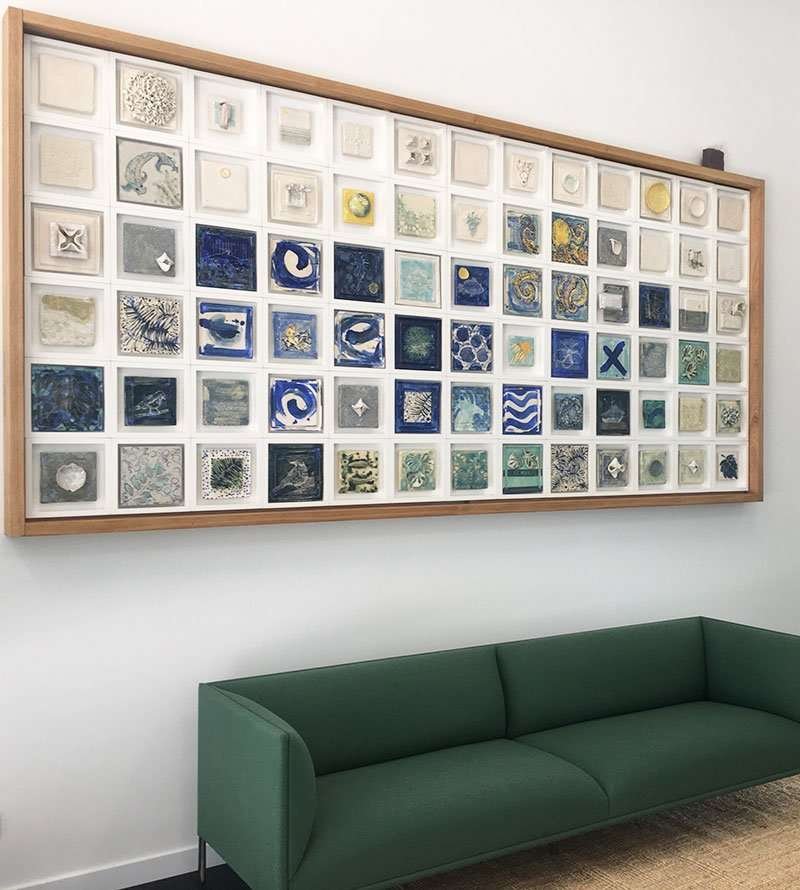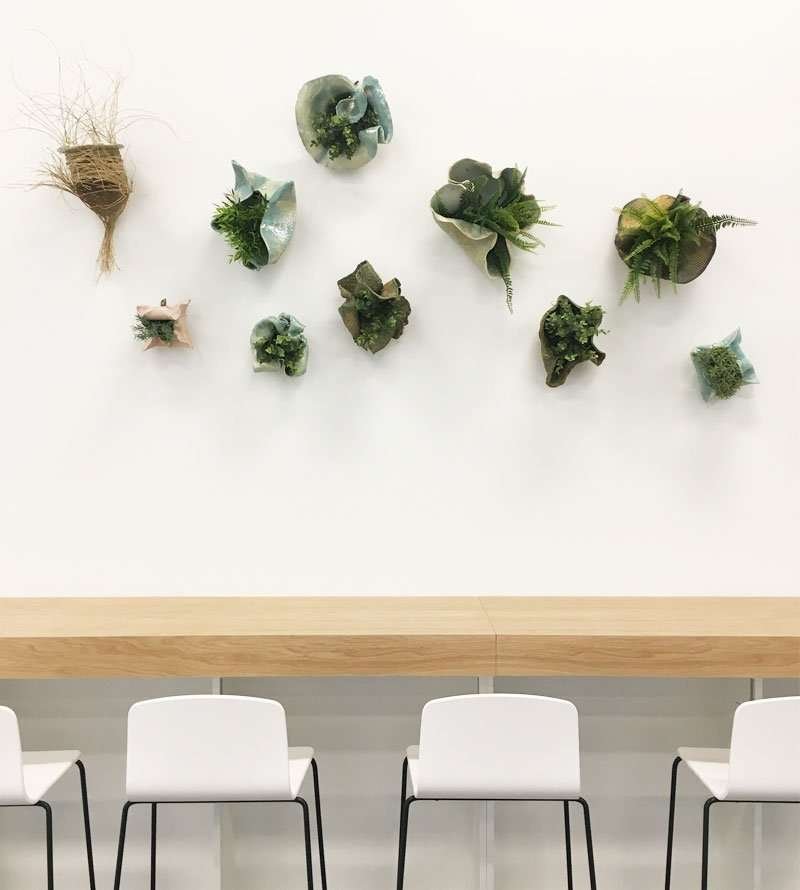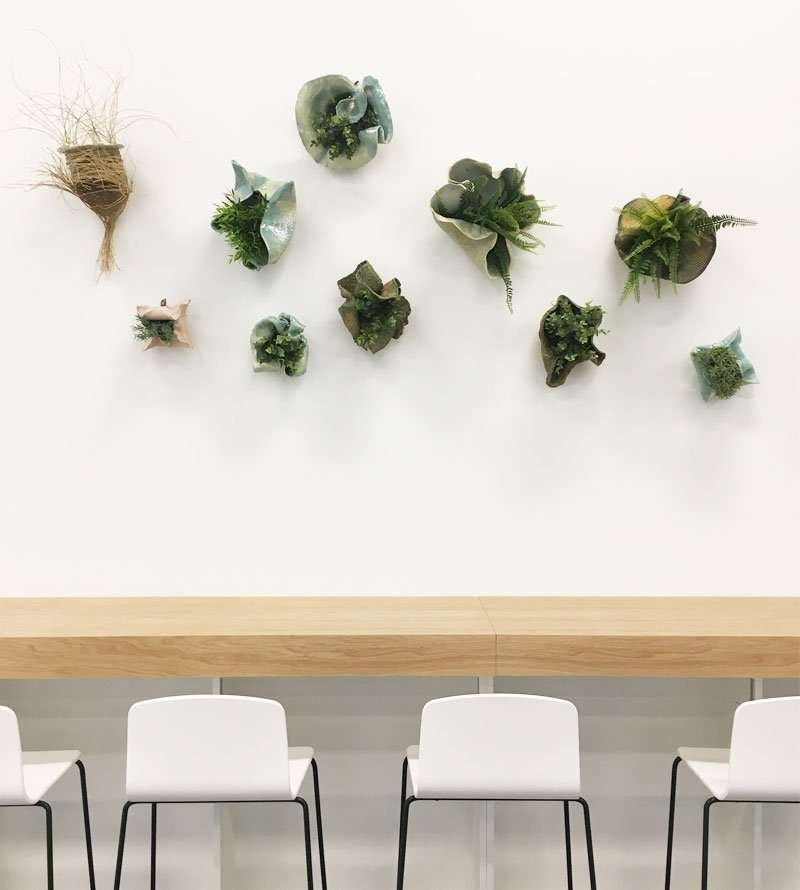 I love that your work has a unique twist, not only do you explore man's interconnections with nature, but also with his disconnections. Can you tell us about your series called nature versus machine?
Nature Verses Machine was another project I did in 2018 for Vanderlande Santiago, Chile in connection with ADIC Barcelona. This Dutch company who were setting up a location in the city wanted a customised piece for their office. These tiles are a combination of found recycled plastic and machine pieces imprinted into clay. As Chile is experiencing environmental pollution problems created by industry, this art installation addresses the issue. This piece highlights the need for Reduce, Reuse & Recycle. It was a mission statement for the company and their commitment to improve their carbon footprint in Santiago.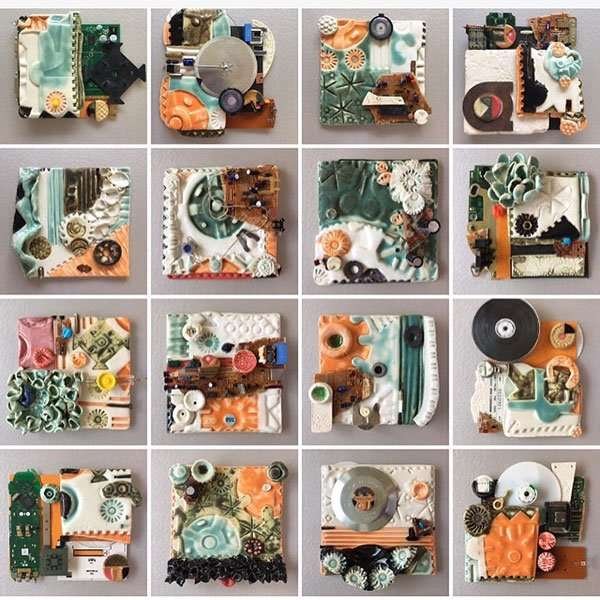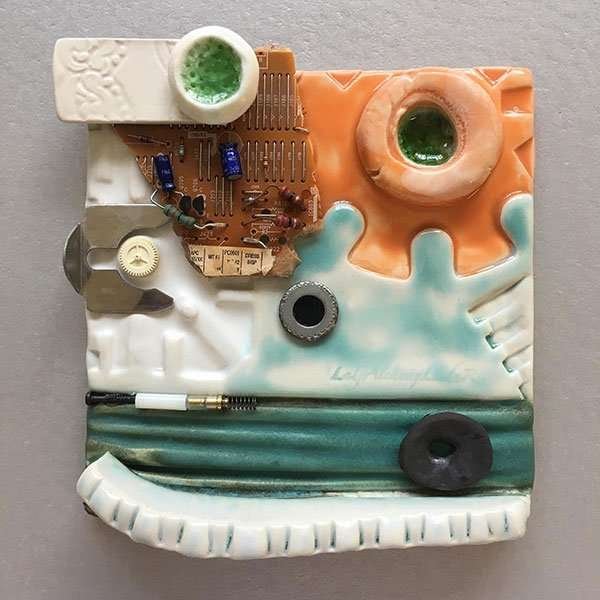 I see you do a lot of commissions and installations, what would be a "dream project" for you right now?
Dream projects are always popping up in the city of Barcelona. I am always ready to jump on the next job. I have been working in my studio El Torn Barcelona throughout the pandemic. In that time I created a solo show called PSXO that will be inaugurated on the 18th of November in Flash Gallery Barcelona.
The gallery is very close to my heart as it's a dream project of my partner. This new space officially opened its doors on the 23 of June 2021. Although Flash Gallery has been running since 2008 it now has a permanent location at 57 Avenida de Mistral, Sant Antoni, Barcelona.
Where can our readers contact you and find your artwork for sale?
Since the launch of Flash Gallery Barcelona my ceramics have a permanent space to be exhibited and purchased. I can be found on Instagram @ladyalchemylindarice for weekly updates on my creative process, exhibitions and upcoming events. Contact me on Instagram or email me for private appointments and availability at Flash Gallery Barcelona.
Thank you Linda!
If you enjoyed this interview with ceramic artist Linda Rice, check out more interviews on Meet the Makers