Singer, performer, spiritual gangster—there are many terms to describe this multi-talented artist. A wild woman and true collaborator at heart, Flow tells us about her first creative experiences and how she came to co-found the artistic collective, The Daffodils Art Project, to be followed by Flow and the Daffodils Orchestra.
Hi Flow, can you tell us a little bit about yourself and where you come from?
I am a Warsaw girl.
I grew up in a house with a secret garden connected with the wood. Under the influence of my grandmother—a painter who taught me to breathe art since I was a baby. My family is a mix of scientists and artists, so when I was a little my idol was Frida Kahlo and Albert Einstein at the same time. I grew up in a world of contrasts and explorations and unlimited fantasy.
What are your first memories making music?
I probably started in a different way than usual, because I wrote lyrics. When I was about 9 years old, I was in love with Nick Cave, so I listened on a Walkman (yes! I'm from the time of listening music from tapes !!!) and—not knowing English at the time—I wrote Polish lyrics for Nick's dark ballads. It usually took place in the forest where I was riding my bike, sitting somewhere under a tree , lighting up a cigarette that was stolen from my aunt and flying away into the world of sounds and words …
What has your musical education consisted of—where and how did you learn to do what you do?
I never liked school and I ran away whenever I could. My education is in art—painting school, but I didn't finish that either. I'm a cat 🙂 I go where and how I want, so I learned everything by myself and from my own experience. My only schooling is vocal technique with one of the best teachers in the world, Andres Martorell. Thanks to whom I discovered the possibilities of my multi-octave voice and how to use it. These are very helpful technical tools.
What strengths do you have that you believe make you a great musician?
My wildness, love, courage, madness, over-sensitivity, independence …
Tell us about your musical project, Flow and the Daffodils Orchestra:
This is a project that was created quite recently in Barcelona. I had an idea for a long time to mix different musical genres together. Mine is alternative music, if I have to define it somehow. I call it alternative soul.
However, I have always been a person who searches and loves to experiment. That's why, when I started traveling the world, living in Havana, I fell in love with Rumba and Cuban jazz. While living in Spain, I fell in love with flamenco. So trying to combine these different musical genres in one project came quite naturally to me. I had the privilege of meeting such extraordinary artists as flamenco dancer Barbara Balbo, her brother, percussionist Lucas Balbo, Cuban trumpeter Carlos Sarduy Dimet and French saxophonist Mateo, Brazilian guitarist Ernesto Enrico, drummer Frank Duran and many other great musicians.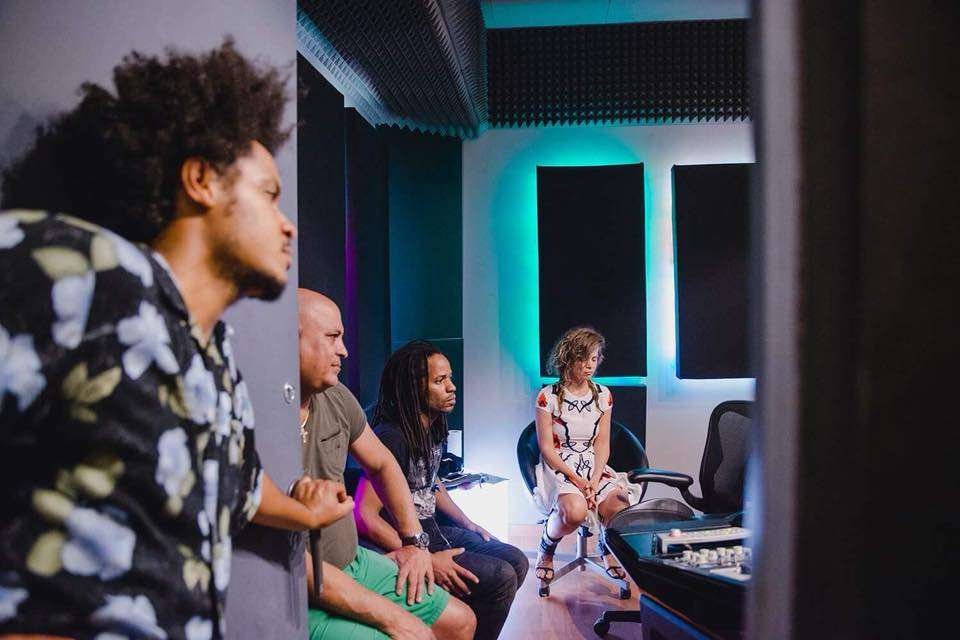 It all started with recording in the studio some time ago—maybe 3 years—because there was still a time when I lived in London and then there was Covid… But I returned to Barcelona and gathered musicians for the Orchestra. Lucas is playing with me now, flamenco guitarist Iban Nobi, pianist from Venezuela Tommy Leb, and Barbara is dancing, sometimes we also invite other flamenco dancers.
The name of the Orchestra corresponds to the artistic collective The Daffodils Art Project, which we founded together with the photographer Julia Malinowska during the pandemic in March 2022. It symbolizes a new beginning, rebirth …
We play songs that I wrote in Warsaw and were released on the album "Kleśa" but in new jazz and flamenco arrangements. This is a melancholic dish, seasoned with strong emotions and rhythm.
What's the best part about collaborating with different kinds of artists?
As I mentioned before, I have been surrounded by art since I was a child. I see no boundaries in it. Painting is connected with movement, movement with sound, sound with words. It is all harmonizing energies and creating a perfect whole. This energy is just the best part. It is for this energy that I do it.
Can you tell us about your next event?
The wonderful dancers Alina Sokulska and Sara Brown will perform. There will be a visual art and painting show by Andji.art, exhibition by painter Fanni Kopacsi, a performance by Miro Milsjen – fashion designer and painter, there will also be a slow fashion and art market, where young fashion designers and artists will present themselves, and of course there will also be a show by my Orchestra. Soon we will put the entire two-day program in the media.
Where can people learn more about your projects and festivals?
You are more than welcome to visit the websites of our artistic collective The Daffodils Art Project and the music websites of the Orchestra:
https://www.instagram.com/thedaffodilsexpierience/
https://www.instagram.com/thedaffodilsartproject/
https://www.instagram.com/basiaflowadamczyk/
https://www.instagram.com/flowandthedaffodilsorchestra/
https://www.youtube.com/channel/UCXTVoIjqzHm0GMHA7T2sQWQ
Thank you Flow!
By Amelia Johannsen