Under the title "Making track, making life", the internationally renowned artists Miquel Wert and Roc Blackblock have signed the largest mural work in the history of Rebobinart and the largest representation of urban art in a railway station in Spain.
Throughout more than 3,100m2 of the new Sant Andreu station in Barcelona, the artists have worked together on a chronology of the history of the railway in Catalonia and in the Barcelona neighbourhood where it is located, as well as a review of the evolution of more sustainable mobility.
Of the total surface area, 1.329m2 are on the mountain side where trains enter from Montcada and head towards Barcelona; and 1.784m2 are next to the sea where trains leave in the opposite direction, from the different stations in Barcelona towards Montcada.
Both sides of the monumental mural transport users to an art gallery where they can enjoy a unique and educational experience along the platform of a railway station. The journey from the most imposing past to the present day, with the representation of an image of the workers who built Sant Andreu station itself, pays tribute to all the hands that have been part of this history.
To carry out this choral work between Roc Blackblock and Miquel Wert, both artists have worked side by side for months, before entering the station, to coordinate the design of the two walls and divide up the different figures that fill them. In addition, Blackblock and Wert have had to document themselves and have had to search through the railway archives of Catalonia to find the most appropriate images for the infrastructure.
Both artists have emphasised throughout the process that it is a team effort between them and the support staff of Rebobinart, with whom they have been supported at all times to achieve full days painting in a station still under construction and, therefore, in coexistence with other construction companies and installation of services.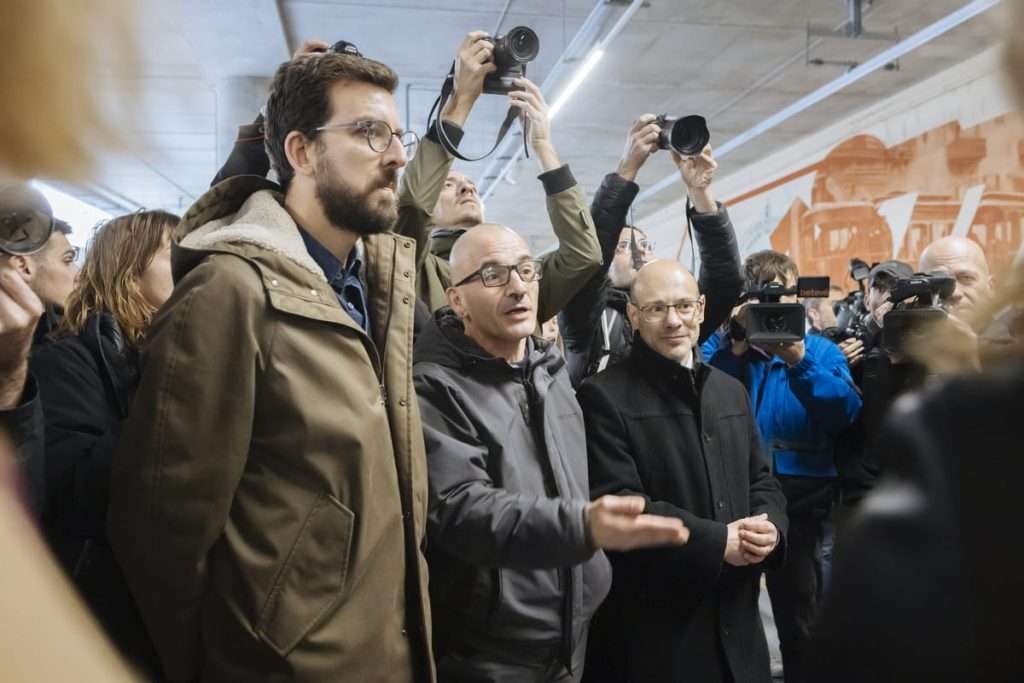 Miquel Wert is a painter with a degree in Fine Arts from the University of Barcelona (2005). His works and walls can be found internationally in different solo and group exhibitions since 2000. He has been awarded the "LIV International Drawing Prize Ynglada-Guillot 2016", the honourable mention in the exhibition "Stipendutstilling" in Oslo and the residencies of "Círculo Artístico de San Lucas", "Torrearte" and "Jiser: Mediterranean Reflections".
Roc Blackblock studied Graphic Design at the Elisava School in Barcelona and Illustration at the Serra y Abella Art School in Hospitalet de Llobregat. At the end of the 90s, he began his career as an illustrator and tattoo artist, and it was in this environment that he became interested in graffiti as a means of collective communication. Roc makes his creativity available to the community as a loudspeaker for historical memory and social demands. His work is therefore a meeting point between urban art and social struggle.
This article was first published on Rebobinart.