Guided visit by Patricia Dauder: Interiors
Patrica Dauder was born in Barcelona, Spain, in 1973 and currently lives and works in her hometown. Growing up, Patrica prided herself on seeing things that often eluded others or were simply overlooked. She explains, "I like to observe the visible interiors of the city, of its houses, imagining the lives of those who inhabit them. This is a source of information not only about people but about the times, society and the changes that are taking place."
She recounts as a little girl, lying on the floor adopting the perspective of her family's dog, as she endeavored to comprehend the world from its unique vantage point. "I liked to observe the spaces as I thought the animal saw them, to look for the corners. I have always been interested in the idea of a living place with all those spaces formed between the objects that are contained in it."
Patricia's sense of imagination and deep observation is what carved the path to her future work in the art world.
Interiors
In her current exhibition Interiors, Patricia places significant emphasis on her exploration of the experiential and perceptual dimensions. Her primary focus revolves around delving into the sensory and mental aspects of interior spaces, seeking to transcend the boundaries of the visible realm. All of her work, from sculptural pieces to drawings and film, aim to convey the notions of organicity, of incompleteness and evocation. Patricia remains steadfast in her pursuit of capturing the intangible. A flash of time, a moment in space— these are all aspects of her work that invoke the power of imagination.
The drawings themselves reveal the memories and imagination of the artist, as she dares to venture beyond the conventional boundaries of artistic representation. For example, Patricia has drawn Inner structure, Darrerre, and Pesadez. The common theme in these works is a reference to the human body and its parts as an evocation, rather than intention.
One such illustration, Inner Structure, provides a vivid example of her ability to translate mental experiences into tangible visuals on paper. Across all her drawings, a prevailing sense of metamorphosis, transition, and the cyclical passage of time emerges, mirroring our own experiences within the environment that surrounds us.
Engaging with the art
Contemporary art often conceals messages that aren't apparent on the surface. The meaning does not unravel at first glance, requiring a more profound exploration. Patricia Dauder's art challenges viewers to look beyond the immediate physical image, urging them to delve into the layers of meaning embedded in the piece. Her distinctive style has a narrative quality, making them more than just visual representations.
Examining her works, such as Darrerre and Pesade, it becomes apparent that she consistently employs a style characterized by light colors. This consistent use of dim light, combined with contemporary artistry, led me to perceive a message about timelessness. For example, the piece resembling a map evoked thoughts of natural materials, suggestive of the enduring qualities of the earth—a constant that withstands the test of time. This theme introduces the idea of nature in conflict with the limitations imposed by time on both artists and humans. It also highlights how destructive humans can be toward the natural world.
Overall, I appreciated her attempt to break barriers not commonly seen to explored within the art world. She takes a distinctive approach which I wouldn't have discovered, if it had not been for Barcelona Art Gallery Weekend.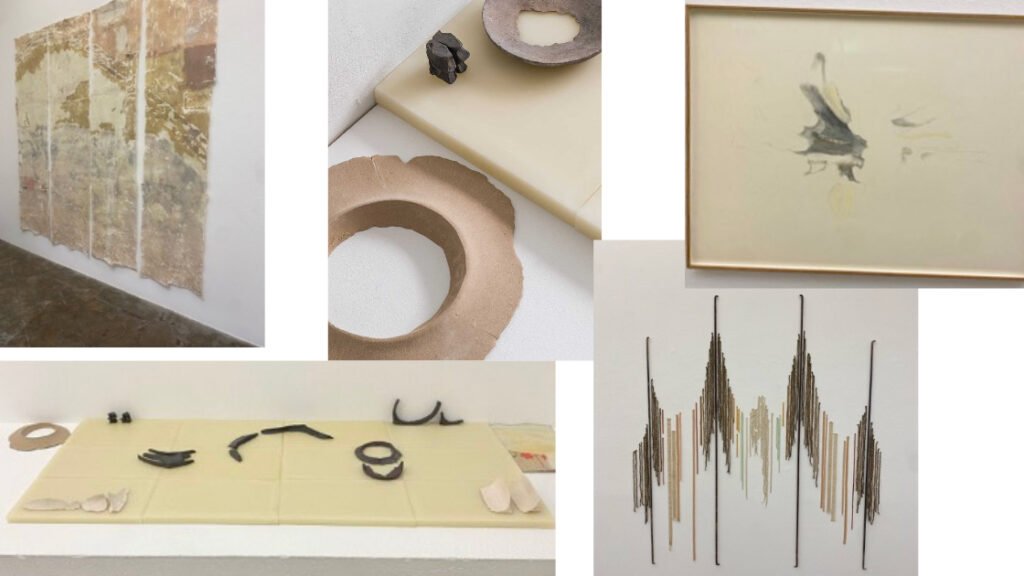 You can visit this exhibition until November 11, 2023 and learn more about Patricia at the artist's website.
About the author
Pat Hourihan is an undergraduate at Providence College in Massachusetts, USA. Pat is writing for FrikiFish as an editorial Intern while studying abroad in Barcelona. Pat visited the Interiors exhibition and tour during the Barcelona Gallery Weekend September, 2023.
About ProjecteSD
Based in Barcelona since 2003, ProjecteSD program has been constructed to generate a dialogue between renowned and young artists, and a platform to host and present works of different times and contexts, as a way to priorize artistic value over trends, classifications, nationalities or generations. ProjecteSD has traced a rigorous line of work, a solid yet not predictable program, with the goal of promoting its artists in the international art contemporary scene and to introduce to the Spanish audience international artists.