There's a certain charm to wandering through city streets and unexpectedly stumbling upon a striking piece of art– as if the city is sharing a secret with you. In Barcelona, you never know what you might stumble upon. Whether it's a colorful mural tucked away in a side street or an expansive sculpture in plain sight, the city's visual landscape is always transforming to the delight of both visitors and local residents alike.
From notable installations such as Frank Gehry's glistening Fish and Roy Lichtenstein's playful Barcelona Head, to vibrant murals and mosaics, Barcelona has something to offer every art enthusiast.
If you're in Barcelona and wish to immerse yourself in its artistic legacy, grab your camera, put on your comfy shoes, and let's delve into a free open air museum.
Miró's public art in Barcelona
Barcelona has a special connection with Joan Miró, the Catalan artist who stands as a source of regional pride and beckons hundreds of visitors daily to his exceptional foundation.
Creative Fresco in Terminal_B
The moment you touch down in Barcelona, you're greeted by its imaginative and artistic essence. The outer wall of Terminal 2 boasts an immense fresco created by Miró in 1968.
Location: Terminal 2B, Barcelona-El Prat Airport
Pla de l'os
Miró's touch also graces the mosaic-laden pathways of the Ramblas. Every day, countless individuals from around the globe tread upon this mosaic, often unaware of its significance. As time has weathered its colors, the artwork underwent restoration in 2006, commemorating its thirtieth anniversary.
Location: La Rambla (between la Boquería and Liceu)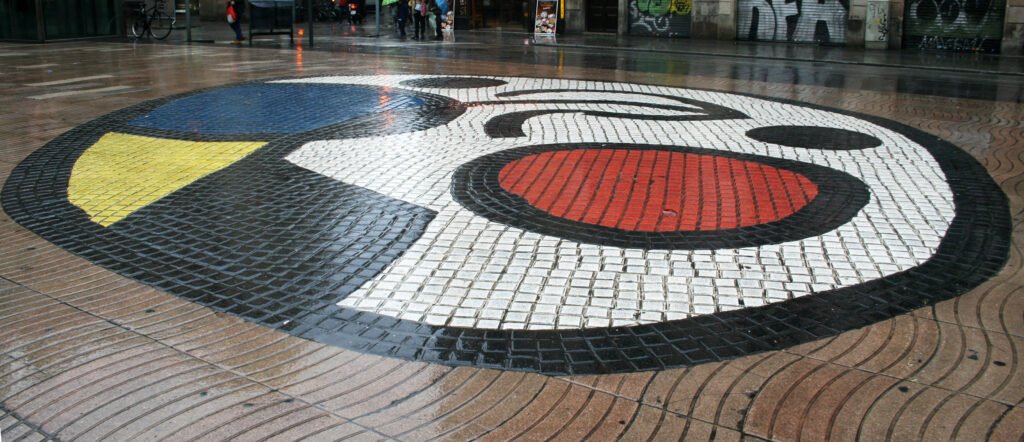 Dona i Ocell
Miró's legacy extends to a park named in his honor, situated on the grounds of the former municipal abattoir. Within this park, a monumental 22-meter-tall sculpture titled "Dona i Ocell" (Catalan for "woman and bird") stands tall, unveiled in 1983 shortly before the artist's passing.
Location: Parc Joan Miró (Eixample Esquerra)
Art by the Waterfront
Barcelona's Head by Roy Lichtenstein
Crafted by a renowned figure of American pop art during the lead-up to Barcelona's 1992 Olympic games. Part of a portrait series called "Brushstrokes," it uses colors like brushstrokes to form the face. The sculpture is adorned with mosaics as a tribute to Catalan art nouveau.
Location: Passeig de Colom
"La Gamba" (The Prawn) by Javier Mariscal
This massive prawn has a unique story, commissioned in 1989 by a restaurant on Moll de la Fusta. After the 1992 Olympics, the restaurant nearly closed but is now owned by the city hall, symbolizing the transformations in early 1990s Barcelona.
Location: Passeig de Colom
"L'Estel Ferit" (Injured Star) by Rebecca Horn
A ten-meter tall sculpture composed of 4 iron cubes, representing the charming yet dilapidated xiringuitos (beach bar-restaurants) from pre-Olympic Barcelona.
Location: Sant Miquel Beach
"Peix" (Fish) by Frank Gehry
Stretching 56 meters in length and rising 35 meters high, this steel fish is an emblem of Barcelona's Olympic port. Its curved shape and material produce stunning golden and copper reflections in the sunlight.
Location: Olympic Port (at the Hotel Arts)
"Homenatge a la Natació" (Homage to Swimming) by Alfredo Lanz
As the name suggests, this sculpture depicts bronze figures engaged in various swimming styles: water polo, synchronized swimming, diving. The interplay between material and space is particularly intriguing.
Location: Plaza del Mar (Barceloneta)
"Una Habitació On Sempre Plou" (A Room Where It Always Rains) by Juan Muñoz
This installation remains unfinished. It consists of two bronze figures within a kind of cage, lacking the sprinkler system intended by the artist, which would have given full meaning to the work's title.
Location: Plaza del Mar (Barceloneta)
"David i Goliat" (David and Goliath) by Antoni Llena i Font
Often termed an anti-monument, this piece stands on an area once cleared of buildings. It brings to mind hanging sheets on balconies. As a tribute to the structures that yielded to new developments, it symbolizes a communal victory over urban expansion, hence its name.
Location: Plaça dels Voluntaris Olímpics (Vila Olímpica)
Art in the Historic District
"El mundo nace en cada beso" (The World is Born with Every Kiss) by Joan Fontcuberta and Antoni Cumella
A large-scale mural that holds significant artistic and cultural importance in Barcelona. The large mosaic was made with the contribution of thousands of citizens who have sent personal images interpreting the motto "moments of freedom". The project is part of the commemoration of the Tercentenary of the events of 1714 in Barcelona. The noise of a kiss is not as deafening as that of a cannon, but its echo is more lasting.
Location: Plaza de Isidre Nonell in front of Barcelona's Cathedral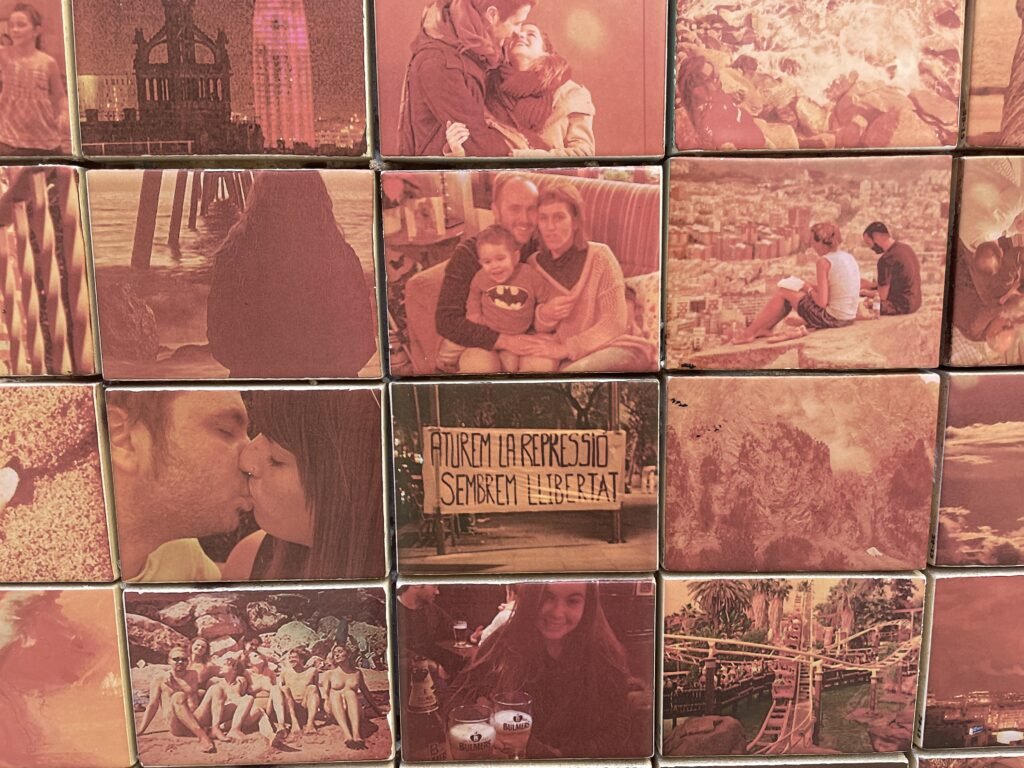 "Gato Gordo" (The Fat Cat) by Botero
Crafted by sculptor Fernando Botero, this massive cat was acquired by Barcelona's city hall in 1987. Initially situated near the zoo in Parc de la Ciutadella, it later graced the Olympic stadium before finding its current home behind the maritime museum and finally settling on Rambla del Raval. A horse in a similar style resides at Terminal 2 of the airport.
Location: Rambla del Raval
"La Ola" (The Wave) by Jorge Oteiza
Adorning the MACBA plaza, this Richard Meier sculpture appears as an integral part of the building. Constructed after the building's completion, it mirrors the architect's work, playing with light and shadow not only on the sculpture itself but also on the structure.
Location: Plaça dels Àngels (Raval)
"Sgraffiti" by Pablo Picasso
The façade of the Catalan college of architects, facing the cathedral, is adorned with ornamental engravings crafted by Picasso. A lesser-known aspect of the artist's work.
Location: Plaça Nova (Gòtic)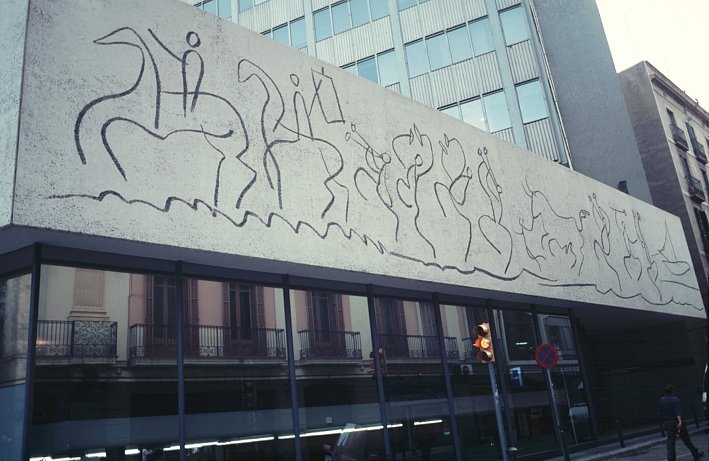 "Topos V" by Eduardo Chillida
Nestled in medieval Barcelona, this unassuming sculpture serves as a link between the city's old and modern aspects. With arches reminiscent of medieval art and forming the letter "B" for Barcelona, it integrates seamlessly.
Location: Plaça del Rei (Gothic)
"Barcino" by Joan Brossa
Adjacent to Topos V stands Joan Brossa's visual poem. The term "Barcino" is the Roman name for Barcelona, and Brossa honors the city's ancient history with this piece. Each letter is an artwork in itself.
Location: Plaça Nova (Gothic)
"Homenatge als Castellers" (Homage to Castellers) by Antoni Llena i Font
This intriguing sculpture pays tribute to the castellers, Catalonia's traditional creators of awe-inspiring human towers. It finds its place near Plaça Sant Jaume, where the castellers often perform.
Location: Plaça de Sant Miquel (Gothic)