Urban & Contemporary Artist, DANTE ARCADE's main influences have their origin in the 90s, with New Wave, Memphis design and the golden age of arcade video games. He creates spaces that "are a refuge for his nostalgia" and says he likes to remember that "time used to run slower and everything had more flavor."
DANTES's retro murals bring bright, bold colors to the urban landscape. On this edition of Meet The Makers we asked him about his beginnings in the world of graffiti art, his creative drive and future projects.
I'm also a child of the 80's and teen of the 90's so I share your sentimentality for a time before mobile phones and the constant connectivity. Why do you think the style of that era stuck with you?
Hello, first of all I would like to thank you for giving me the opportunity to share this space with you.
This period time was etched in my retina for several reasons. First, when you are a child you live everything with much more intensity and enthusiasm. And during my childhood I was going from Murcia to Lleida to spend the holidays with my father. He opened a massive arcade. I had access to all of the arcade games that a child could dream of, in addition to having unlimited games!
Right next door was the neighborhood cinema and we got in for free because they were friends.
For me, being a teenage boy was almost like being in Las Vegas. Ha ha ha.
When and how did you start making graffiti art?
I estimate that I started when I was 13 years old, in the mid-90's. One day, I got my hands on a Hip Hop demo in Spanish through a friend at school. I listened to it all summer and was totally enthralled.
The older kids who had been around longer started showing me fanzines, murals and the whole graffiti scene. Before I knew it, I didn't want to do anything other than draw or paint within whatever a 13-year-old boy could afford.
At first, I simply signed with camphor, which is used to dye shoes. Sometimes we would fill in letters of less than half a meter with plastic paint between 3 or 4 kids and we would finish the piece with 4 cans that we got together. They were ridiculous pieces, but we lived it as if we had won the Olympics. Ha ha.
What is your goal with your artwork?
I don't know if I would call it that, I think that's what the viewers should do.
Actually, I do have goals as an artist, but not a fixed goal. I suppose that painting is an impulse that I have and the only thing I want is to continue working to develop my work. Perhaps this evolution will never end.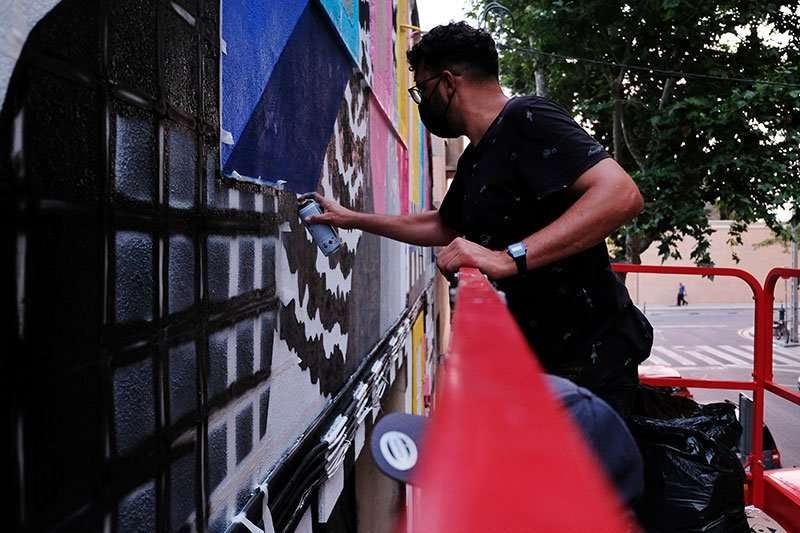 What do you want people to feel or think of when they see one of your works on the street?
While I do think that I paint because my need to express myself, if I said that I only paint for myself, I would be fooling myself. If that were the case, I would not do it on the street as I do. That's the part that encourages me to continue working. The feedback people give me.
If you look at my pieces, you will see color saturation and aesthetic shapes. If I start to analyze it, I may express with painting everything that I cannot transmit on a day-to-day basis. (My mother always says, "with the beautiful colors that you paint and you are always dressed in dark colors" ha ha.)
I'd like that when someone sees my paintings, beyond what they may think, that they feel joy for life and good vibes.
Do you have any favorite cities you like to paint in? If so, why?
I would like to paint in a lot of countries and cities that I still don't know. One of my key goals is Miami. I would love to paint in this tropical city, loaded with many of my influences.
On the other hand, I usually go on excursions looking for abandoned places. I really like to paint in virgin spaces, for all the possibilities they offer me.
It's very cool, the feeling of being totally alone painting, being with all four senses at that very moment. Pay attention to the sounds, lights or stimuli that you may encounter as you go along. If we get mystical, it is like doing mindfulness meditation.
Can you tell us about your creative process; what are the steps to making a mural?
This can vary greatly depending on whether it is a closed project or if it is an action on my own.
For projects, I am much more rigorous. I usually follow several steps. I have folders with thousands of references of all kinds, which I keep. I begin by refreshing these influences.
I continue documenting myself until I find an idea and from what it suggests to me, I draw on paper or with the tablet. Sometimes I even make a kind of collage with Photoshop, with all the material collected to assemble the final design. (Although I don't always follow the same steps or the same order).
When it comes to a personal project, or I simply intervene in a free space, sometimes I go with a sketch or image of something as inspiration and many others I directly improvise to see what comes out. This game helps me get out of my comfort zone.
Urban Art has experienced an interesting trajectory. From illegal tagging and graffiti on trains to murals that are now known and respected among the contemporary art scene. Urban artists are also appearing in galleries and museums. What are your thoughts about the path of urban art in popular culture?
I value and respect all Urban Art, although of course I have my preferences. I think that it is still necessary to finish integrating this culture, in all its facets, and for people to learn to understand and then value, beyond what is aesthetic or beautiful, according to the standardized patterns of our society. From my personal vision, those of us who come from the purest Graffiti continue to be misunderstood by some institutions, unlike those who practice a more figurative and conventional painting, who enjoy greater acceptance.
Can you tell us about the distinction between graffiti artists and mural painters and how you fit into this scheme?
Graffiti is an underground culture that comes from Hip Hop and from a marginalized or repressed parts of society. This makes it have a radical and aggressive character. Like standing out with your signature and your style, without having to do it legally.
Wall art does not have to be linked to this culture and is usually done legally. Only this difference is already a great conditioner.
I started painting Graffiti and without realizing it, I ended up doing murals. I am passionate about these two worlds and I would not like to disassociate myself from either. In my case, I think they can coexist without a problem, since they feed off each other.
Whether or not I fit into this scheme is not an equation that I think I have to solve; I just think that life is too short not to dedicate yourself to doing what you like.
Do you have any artist(s) you admire? Can you pinpoint what it is that makes them so special for you?
I have hundreds of references. I will only say a few very diverse ones, since if I name them all it would never end ...
I really like the collective: The Seventh Letters and MSK from Los Angeles, because of how they have approached their work coming from Graffiti and have taken it to the galleries without losing its essence.
Also: The Memphis Group, for how they revolutionized the way of seeing the design and aesthetics that they marked.
Another great one for me is: Keith Haring, for being one of the pioneers in painting in public space and for the personal nature of his style and making his drawings work as a vocabulary.
Do you think that urban artists enjoy more artistic freedom than fine artists?
I'm not sure because I never studied fine arts. I think that art is for the enjoyment of all and that when it's in a public space it's enjoyed more—and by the one who makes it more than the one who perceives it.
Do you have any special projects that you hope to achieve some day?
Go around the globe painting =)
Thank you for sharing with us today! Before you go, please let our readers know where they can see your work online and get in touch with you.
Web: dantearcade.com
Instagram: @dantearcade
If you enjoyed this interview about DANTE ARCADE's retro Murals, check out more articles about street artists in Barcelona...