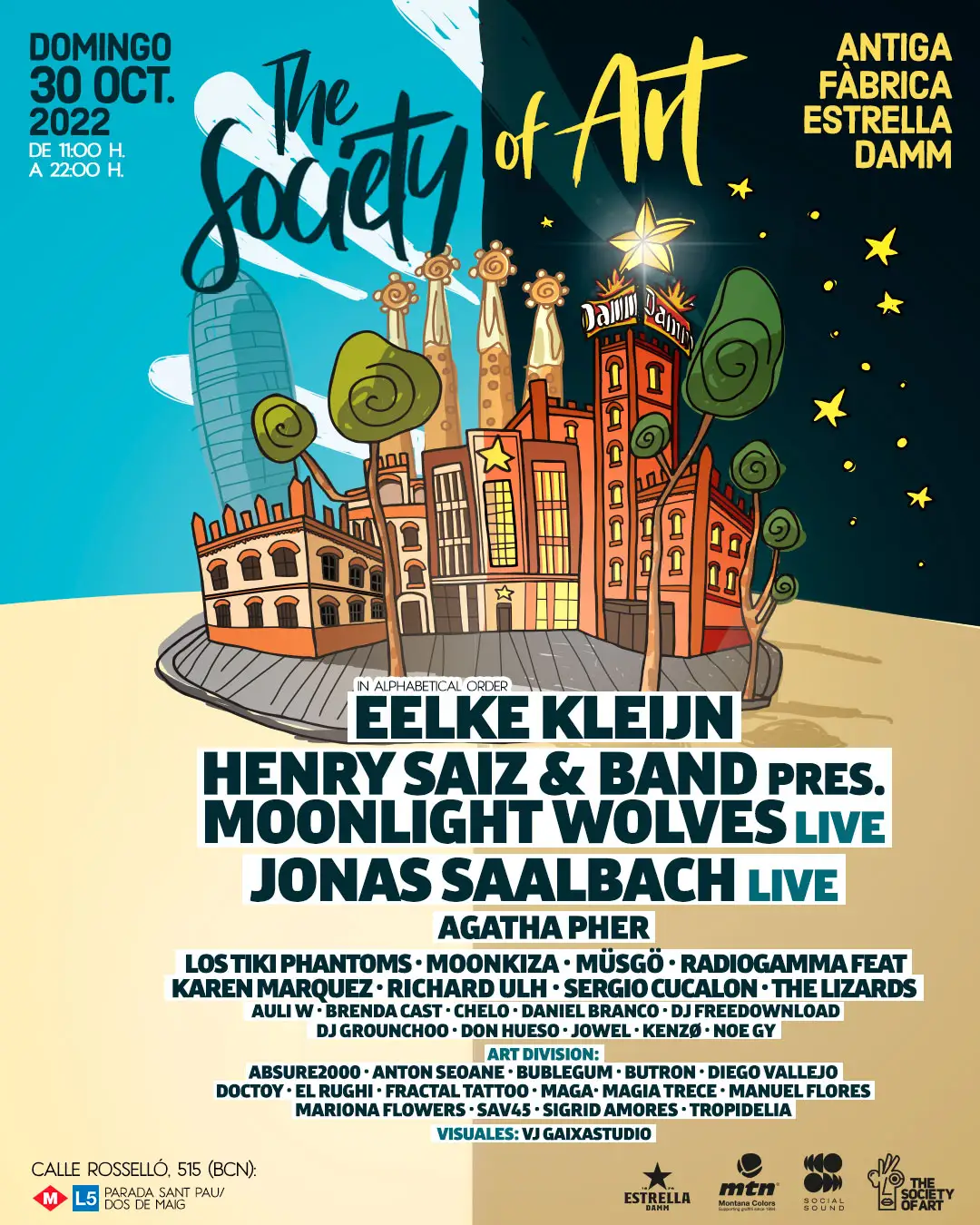 The Society of Art
They're back! After a long time working in the shadows, The Society of Art brings you a true 360* concept in one of the best places in Barcelona, ​​​​the iconic Antiga Fàbrica Estrella Damm.

We want to build the perfect atmosphere for you to enjoy a different Sunday in a unique venue with our biggest production so far. 40 artists, including some of the best International electronic live music performers, DJs, Rock and Indie bands, painters, illustrators, fashion designers and our very own Super Chef are ready to deliver a 5 senses experience.
At the main stage, Eelke Kleijn will deliver one of his amazing sets full of melodies, magical atmospheres and smooth grooves. Henry Saiz pres. Moonlight Wolves will play their new live show in Barcelona for the first time, and Jonas Saalbach will close the day off with his Live Set. Joining them, one of the big names of the Catalan scene: Agatha Pher, along with some of the spiciest local talents in town that will spread across the main stage and the terrace.
Our indoors stage will welcome top notch live bands such as Tiki Phantoms with their signature Surf Music, Radiogamma feat. Karen Marquez playing proper Indie-Rock with one of the best vocalists in Venezuela, or Müsgö, an unseen genre-bending arp performance combined with looping and electronic sounds that offer a mixture of Jazz, Soul.. pure magic! The Lizards' Punk-rock will speed up the pace only for the incredibly fun electro-swing of Don Hueso and the Balkan sound of Dj Grounchoo to end the night by putting a smile on your face.
13 of the best street artists and illustrators will take over the venue with their astonishing work in the form of murals and live paintings thanks to the support of our Arts sponsor: Montana Colors. Meanwhile, in our market zone you will find some of the coolest independent fashion designers in the city.
The perfect seasoning for this very special day will be in the kitchen, since Super Chef Abundi Monterde will be cooking one of his infamous Popular Paellas for everyone! His talent is only matched by the amount of prizes and contests he's won during his career.
To close our reunion with a bang, once the sun is gone, "L'antiga Fabrica' will become the true star of the night: A massive visual mapping will be projected on the walls of the building to say goodbye and leave us with a memory to hold on to forever! We've got a lot in store for you, including some surprises still to be announced, but nothing is as important as what you can do for us – bring your best attitude, your biggest smile and help us create the loveliest vibes for this proper celebration of life with the best music, art and food that Barcelona has to offer!