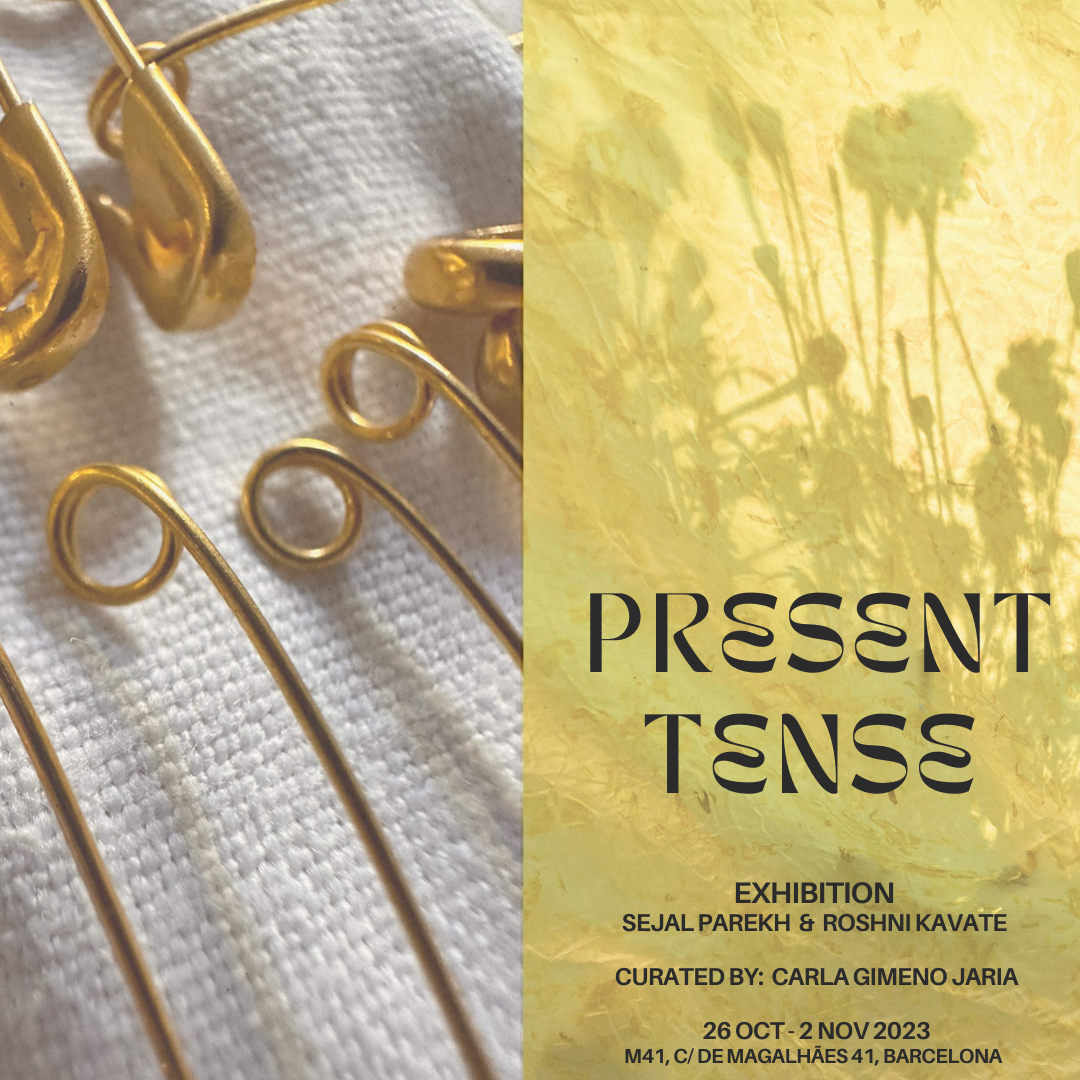 Present Tense Exhibition
Exhibition by Roshni Kavate & Sejal Parekh
Curated by Carla Gimeno Jaria
Opening:
26.10.23, 18h to 21h
m41, Barcelona
According to the dictionary, home is a word that relates to the place where one lives. However, every single person has a different understanding of it. There are specific sounds, smells, materials, landscapes, images, sensations or even people that one can associate with their homeland even though these might not be tied to a specific place and time.
Driven by this complexity while gathering symbols, cultural representations and personal experiences, Roshni Kavate and Sejal Parekh join their artistic practices in this exhibition to thresh the semantics of the concept of 'home'. Present Tense brings together visceral works from both artists, across sculpture, installation and video, that are connected by their exploration of sovereignty of the self, corporeal archiving and nostalgic futurism, to create new significances of what it means to belong.
Parallel activities
Saturday 28.10.23
● 11.30am Activation from the Mango+Okra collective
● 12pm Curated walk through and Q&A with the artists
Artist Bios
Sejal Parekh (she/her) is a multidisciplinary artist, of British-Indian origin. A graduate of Fine Art from Winchester School of Art, UK (1st Class Honours, 2001), her practice is based in sculpture, often working on large scale site specific installations, video and sound work. She divides her time between London and Barcelona, she is a resident artists at Tangent Projects and has shown in a number of exhibitions and art fairs including SWAB (2022), 'Habitar Els Margenes' (2023) and will have a solo show at Stone Space Gallery, London, in May 2024.
Roshni Kavate comes from a lineage of South Indian artisans who worked communally to produce handwoven, plant dyed silk sarees. Born in India and raised in India and California, Roshni is inspired by the alchemy of colour, texture, history, modernism and craftsmanship. Her practice weaves together whimsical, moody reinterpretations of memory, place and tradition to reconnect with her ancestors and their land. She works with culinary installations, textiles, clay, printmaking, plant dyes, inks and performance to invite viewers to experience the universality of their individual inner path. She recently completed artist residency at Can Serrat in Catalunya and Tangent Projects studios in Barcelona.