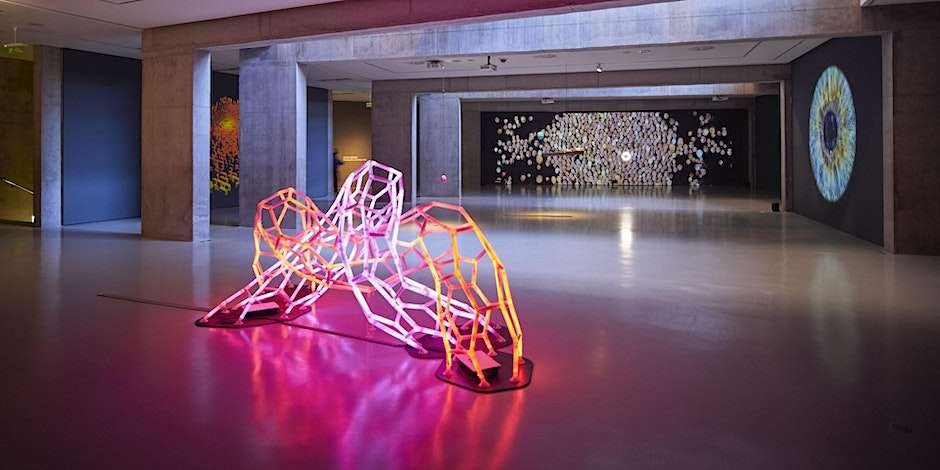 Digital Art: a Conversation with Anna Carreras, Anaisa Franco and Mónica Rikić
In the framework of the current Digital Impact exhibition of the Disseny Hub Barcelona and in the context of the Master's Degree in Digital Art Curation of the ESDi-URL School of Design, we invite the artists Anna Carreras, Anaisa Franco and Mónica Rikić to talk about digital art.
The conversation will be held in Spanish.
About the artists
Anna Carreras is a creative coder and digital artist interested in experimenting with interactive communication, focusing her work on the use of generative algorithms, creative code, and interactive technology as a means of communication and generator of experiences. He has presented interactive and digital installations at Cosmocaixa (Barcelona Science Museum), Llum Barcelona, Sónar Innovation Challenge 2016, MIRA Visual Arts Festival, Medialab Prado, Abandon Normal Devices Liverpool, among others, and has exhibited his generative works at Feral File or Decentraland.
Anaisa Franco creates affective sculptural works for public spaces. His mission is to activate the public space through a playful and interactive approach: The simple moment of passing is transformed into a magical and sensory experience. For her works, Anaisa Franco uses parametric design and digital fabrication, mixed with technology. Her interactive pieces connect physical structural elements with digital realms expressed through digital lights, sensors, and new materials. In recent years he has developed works for Shanghai City Life Festival, VIVID Sydney, Annecy Paysages, Medialab Prado, Mecad, MIS, Hangar, Taipei Artist Village, China Academy of Public Art Research Center, Mediaestruch, Cite des Arts, ZKU, SP_Urban, MAC Fenosa, EXPERIMENTA Biennale Melbourne, RUMOS Itaú Cultural, URBE, among many others.
Monica Rikić is an electronic artist and creative programmer who focuses her practice on code, electronics, and non-digital objects to create interactive projects that she often presents as experimental games. She has participated in different festivals around the world such as Ars Electronica in Linz, Creative Tech Week in New York, Robotronica in Australia or FILE in Brazil, among others, and has exhibited in local institutions such as the CCCB, Arts Santa Mónica or Disseny Hub. She and she has been awarded at the Japan Media Arts Festival, AMAZE Berlin, the Margaret Guthman Musical Instrument Competition in Atlanta and with a Leonardo grant from the BBVA Foundation to work on a research project on robots and social interactions. She has been awarded the National Culture Prize (2021) awarded by the National Council for Culture and the Arts of Catalonia (CoNCA).