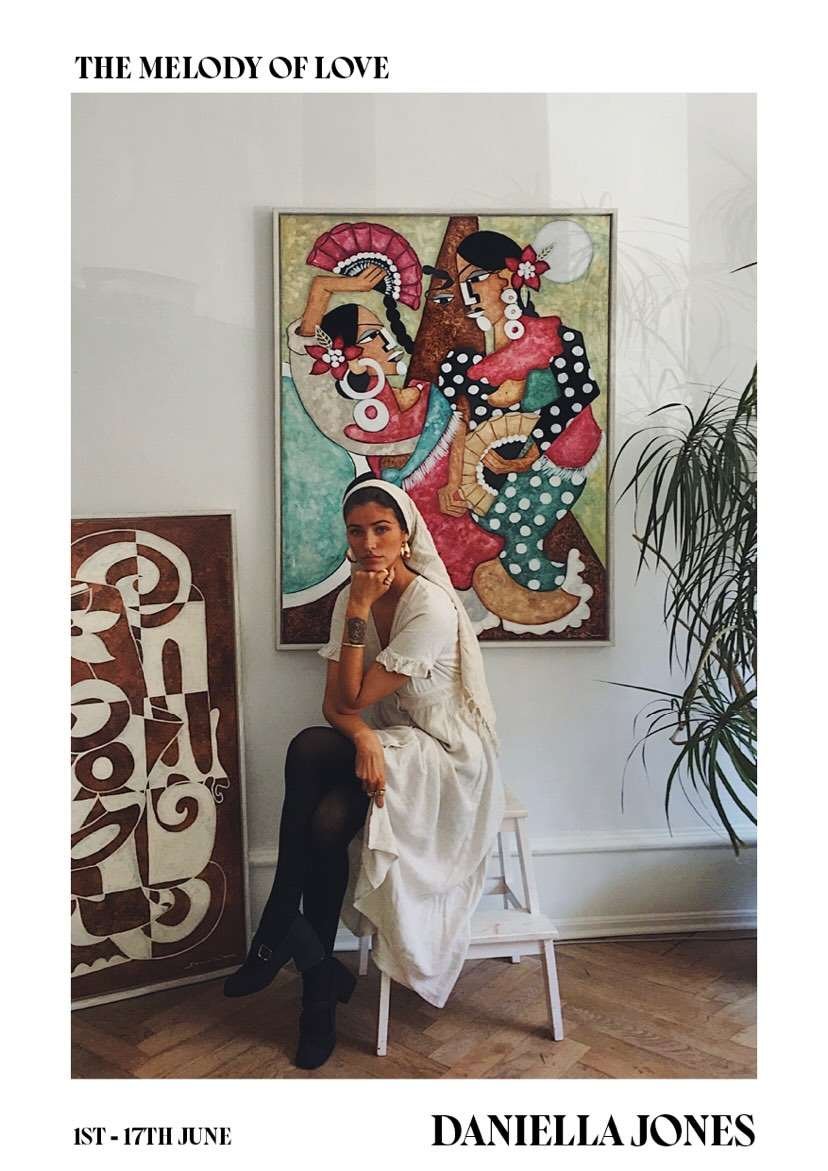 Daniella Jones, The Melody of Love at NoHo House
Meet Daniella Jones, a rising star from Denmark whose unique artistic vision is shaped by the rhythmic pulse of her two homes – the lively Copenhagen and the vibrant Barcelona.
GRAND OPENING RECEPTION
THURSDAY JUNE 1st, 18-21H
Daniella's work embodies a dynamic fusion of traditional and contemporary styles, reflecting her never-ending journey of artistic discovery.
About Daniella Jones
Born in the year 1995, Daniella Jones is a true child of the turn of the millennium. Her roots trace back to the vibrant capital city of Denmark, Copenhagen, a city she deeply cherishes. However, Daniella also holds a special place in her heart for the cultural metropolis of Barcelona, splitting her time between these two distinct locales.
From the very moment she set her eyes on a paintbrush, Daniella was enamored, developing a profound love for the art of painting that unmistakably shines through in her work as an artist.
Daniella's journey into the world of art is marked by a spirit of self-discovery and learning. She is entirely self-taught, embodying a 'learn-by-doing' approach that has proven instrumental in her artistic development. Daniella recognizes the value of continual learning, embracing her role as a perpetual student of art. This mindset is clearly reflected in her contemporary style, which blends traditional elements with modern aesthetics.
In 2017, Daniella made the significant leap from an art enthusiast to a professional artist, a transition that marked a new phase in her artistic journey. Since then, she has been unstoppable, driven by an insatiable passion for her craft. Her ceaseless creativity has made it impossible for her to restrict herself to just one aspect of the vast and diverse painting world. Consequently, Daniella's artistic collaborations extend beyond individual art lovers to include businesses and organizations, both within Denmark and internationally.
However, the works that you will predominantly find showcased on her site are those that hold a special significance to Daniella. These are her favorite original pieces, the ones that truly resonate with her artistic vision and best represent her unique style. As an artist, Daniella Jones continues to push the boundaries of her craft, painting not just with colors, but also with her soul, infusing each piece with a piece of herself.