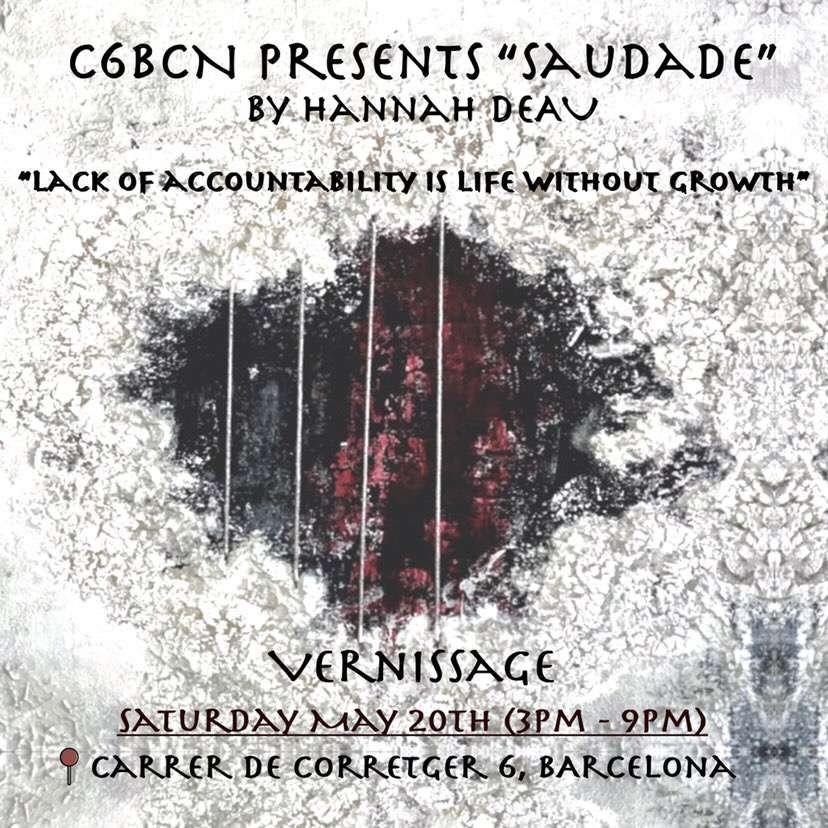 C6BCN presents "Saudade" by Hannah Deau
Welcome to the vibrant world of Hannah Deau, where her artistic journey intertwines with the exhilarating art space known as C6. This avant-garde haven is a pulsating hub of creativity, a melting pot of eclectic talents, and the perfect canvas for Hannah's electrifying artistic evolution.
Hannah Deau, is the vibrant force behind her mesmerizing art, hails from the enigmatic streets of Barcelona. This trailblazing American abstract painter fearlessly explores uncharted territories, pushing the boundaries of her craft.
With an insatiable thirst for innovation, Hannah fearlessly dabbles in unexplored techniques, infusing her creations with an explosion of textures that breathe life and ignite emotions within every stroke. Her art becomes a portal to unseen dimensions, a harmonious convergence of colors and forms that captivate the senses.
Each canvas she creates becomes a captivating narrative, whispering untold stories to those who dare to venture closer. With every brushstroke, Hannah paints emotions onto the surface, breathing life into the intangible and revealing profound beauty in the depths of darkness.
Prepare to embark on an extraordinary journey as Hannah Deau defies conventions, reviving the very essence of art itself, and inviting you to witness the soul-stirring beauty that lies within her masterpieces.
C6 invites you to become a fervent follower of Hannah's awe-inspiring journey, to witness firsthand the breathtaking fusion of her boundless imagination and the captivating atmosphere of the art space. Prepare to be captivated, enthralled, and enchanted as Hannah Deau and C6 embark on an exhilarating artistic expedition that will leave you yearning for more. Get ready to immerse yourself in a world where imagination knows no bounds and artistic expression reigns supreme."
PLEASE JOIN US FOR OUR VERNISSAGE AND OPENING RECEPTION: SATURDAY MAY 20TH 3-9PM