Today we're speaking with Daniel Meakin, an English Artist who lives and works in Barcelona, a city he finds vibrant and inspiring. Daniel also travels regularly to his second studio in North Wales.
Thanks for taking the time to chat with us today Daniel. You have been successfully creating and selling your paintings internationally for almost 30 years. We'd love to know more about your experiences living and working as an artist in Barcelona.
First, can you tell us a little bit about yourself?
I grew up in Saddleworth, a rural area in Greater Manchester. As a child I remember drawing whenever I could. At school I began painting when I was 15 years old, experimenting with collage, sculpture and ceramics, but my main interest was in painting. My older sister still has my first painting at her home. At 17 years old, I decided to go to art school to further my studies in painting and sculpture. I also experimented in graphic design, fashion, and life drawing. Over the next 8 years I went on to undertake my Bachelors Honours Degree in Fine Art in Yorkshire. Finally I received my Masters Degree in European Fine Art in Barcelona and Winchester.
Ever since graduating from my masters, I have been living in Barcelona. During the first few years I was teaching English and exhibiting my paintings in local galleries and alternative art spaces.  Several years later, I had the opportunity to take over a local art gallery where I curated exhibitions; scouting international artists to exhibit in collective and individual exhibitions. This marked the end of my English teaching career and the beginning of being a full-time artist.  Subsequently, I was able to create and sell my art which included commissions locally and internationally, and exhibitions in Paris, Miami, San Francisco, and the UK.
When I am not painting, I like travelling, hiking, and socialising with friends, who are based all over the world.
Your paintings are characterized by lots of color and movement. Can you tell us about your inspiration and techniques?
I am a fan of artists such as Robert Rauschenberg and Antonio Tàpies for their use of different textures and collage, and painters such as Friedensreich Hundertwasser and David Hockney for their use of colour and form.  Artists such as these highly inspire me when researching ideas for new paintings.  Like Rauschenberg, I love to upcycle objects and thrown away furniture that can often be seen around Barcelona. Regarding my techniques, the materials I use depict which mediums I use, whether it be paint, pastel, ink or spray paint.
How does living in Barcelona impact your work?
I've witnessed many physical changes in Barcelona over the years, yet it still gives me plenty of inspiration.  I am constantly inspired by its rich tapestry of architecture, design, and culture.  There is a constant variety of cultural and traditional events, whether it be up in the mountainous regions, downtown in the city, or on the coast and in local communities.
Do your creations change when you work from your studio in North Wales?
Working from my studio in North Wales is completely different, more tranquil and peaceful in a rural coastal setting, in contrast to the chaos and diversity of Barcelona.  I have been creating paintings there since 2000 and my styles have evolved over the years. I think they are different because they are depicting a different environment.
What do you want to express with your art?
The art of painting and its process has to be from me - how I am feeling, what's going on in my life, family, friends, surroundings, etc, at the point of execution, or what is the point of me creating art?  I want to accumulate ideas - sketches, photos, doodles, and experiment with various mediums and see where that takes me. I regularly make commissions and I am fortunate that hundreds of my paintings have found homes worldwide.  In a commissioned piece, my working process is depicted by what the client wants to see.
Barcelona has been home to a number of renowned artists and painters. Do you think the city's unique artistic heritage helps or hinders contemporary artists to make a name for themselves?
I can't imagine how it would hinder.  I believe that originality in contemporary art stems from what we have learnt from art in history and how we can manipulate it, which is why Barcelona offers a wonderful tapestry of ideas for us work with.
What kinds of artistic opportunities have you found in Barcelona?
I have been creating paintings in Barcelona for private collectors and in public galleries and cultural spaces.  In the first few years, I was invited to create art for the public transport metro network and various Hotels, and curating exhibitions in a downtown gallery based in the Gothic District.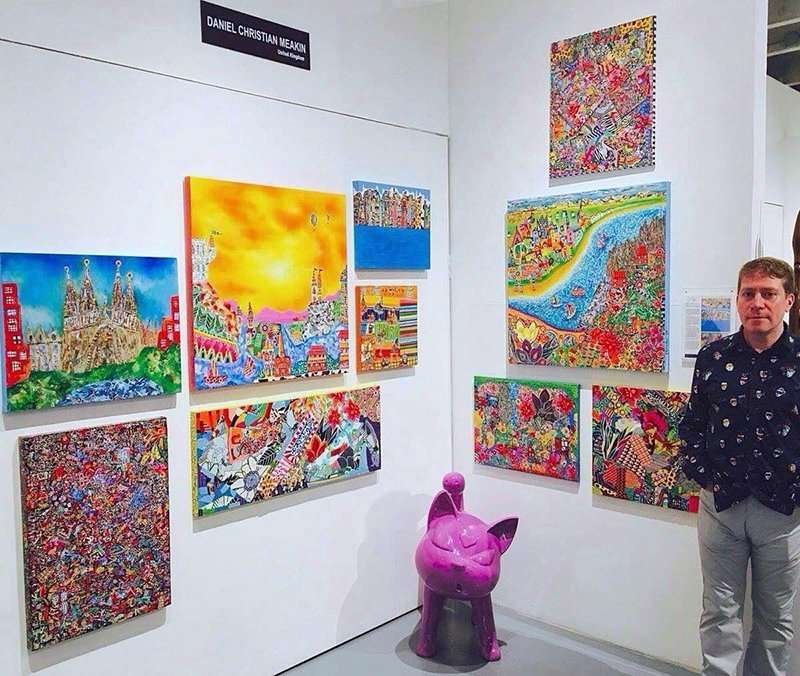 You have also obtained gallery representation outside of Spain. Can you tell us about your experiences working with galleries in the US and the UK?
Yes, thanks to numerous contacts in Barcelona, opportunities took me further afield leading me to undertake exhibitions and commissions in Miami, London, Paris and San Francisco.
In the UK I have regularly sold my paintings at Fine Art Auction Houses and Art Fairs, as well as regular commissions.  My objective is to exhibit in more galleries in the UK in the future.
In the US I have been selling paintings to individual clients and companies such as J.P.Morgan for more than 20 years.  Since 2015 I have been exhibiting and selling my paintings in galleries in Miami's Wynwood and Little Havana districts as well as at Art Basel Miami in 2016, 2017, and I am looking forward to do again in the upcoming Art Basel Miami 2018.
And lastly, where can people find your work?
Put my name through Google and you will find pages with links to my art: exhibitions, fine art auctions, live painting performances, interviews, and write-ups about me and my art.  I also share my paintings through my own website www.danielmeakin.net as well as through social media such as Facebook / Instagram and Twitter.
Thanks Daniel!
Meet more makers in Barcelona!