Seated atop rolling hills and just above el Jardin del Teatre Greg sits the Fundació Joan Miró, established in 1975, it has been bringing worldwide admirers ever since. The collection is thorough and draws the most devout Miró fans while also capturing the attention of locals, like the nearby school children visiting to appreciate and admire their local artist turned celebrity.
A stunning walk up
I started the slightly steep but stunning walk to the museum from my nearest metro stop, but for a museum in such a gorgeous location, you really can't go wrong coming from any direction. Personally, I recommend the walk over the gondola if you're able. Stop and smell the flowers as they say!
Once you reach it, the museum boasts a panoramic view of the city. Peering over the edge, you can see the flowering hillside in April. I noted the museum was surrounded by elementary and middle schools and I found that Miró's seeming simplicity in techniques that manage to evoke deep emotions and convey important messages is reflected in the mannerisms and behaviors of the children. That said, on your visit do not be surprised by the number of student groups on guided tours, likely due to their proximity to the museum and the historical significance of the artist.
Architecture for the discovery of modern art
The architecture of the building is impressive and is as complex and well thought out as the pieces it houses within. Upon entering, you'll face floor-to-ceiling windows that look out to the Olive Tree Graveyard which is the epitome of the Mediterranean style of architecture Josep Lluís Sert (a close friend of Miró) designed for the entire museum. Each open roof, wall and window was designed to best showcase the pieces and simultaneously act as a vantage point to the city, and does just that.
I'm not embarrassed to admit I spent my entire day here. Between the two floors of paintings, sculptures, family heirlooms, mementos and viewpoints, it's hard not to. What makes the museum even more accessible is that it offers descriptions and explanations of each time period and piece in four languages, making it easier on international visitors.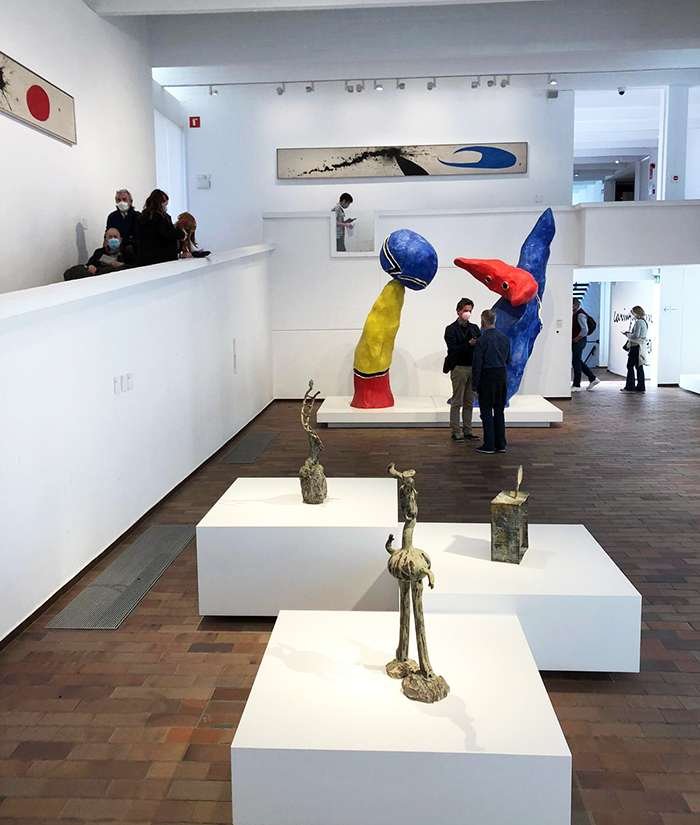 Space for history and dialogue
I highly recommend using the audio guide. Bring your airpods, earbuds or headphones as some of his most simple artwork is more than what meets the eye. Hearing the process and history behind each painting as well as the symbolism and meanings greatly enhanced my experience and understanding of not only the painting in front of me but of Miró as well.
The exhibition walks visitors through the stages of Miró's life and art as well as the history that was happening alongside it. It's obvious and certainly cliche, but "life imitates art" feels fitting here. Though Miró started as a poet, he was inspired early on by the international avant garde movement, especially by young Americans, and sought another medium of expression. At the age of 18, he decided to devote his life to painting.
Beneath the man and his masterpieces lies a deep appreciation for the Spanish countryside, specifically Paisatge de Mont-roig, where Miró recovered from typhoid fever and declared he would be a painter for the rest of his life. Inspired by the simplicity yet youthful enthusiasm in the colors and landscape, he constantly referred back to symbols of nature that brought him great comfort and nostalgia even when painting in his apartment in Paris.
What often started out as sketches or skeletons of ideas for Miró could transform after inspiration by (frequently tragic) real historical events. In the case of "Hope of Condemned Man", the sudden execution of Salvador Puig Antich (a Spanish militant anarchist) moved Miró to finish a painting he had been planning for two years. Also on display are the Savage paintings, a series of works in which Miró responded to the Spanish War in 1934 by drawing distorted figures and creating his own monsters.
Throughout my time there, I couldn't help but notice the purposeful placement of the pieces as exemplified with "Cell of recluse I, II and III" which were angled on the walls as if three sides of a square and the viewer is stuck in the center, feeling as if they are in fact the recluse in the cell. The layout takes a hold of simplicity and adds another layer to the art, which may seem obvious, considering interior architecture is an artform itself. It is subtle yet powerful, and adds meaning without distraction. In this way, the museum feels interactive.
Some helpful hints as you walk through the museum
Any time you see a red circle, it represents the sun. This was a symbol Miró began to use after his trip to Japan where he was greatly inspired by the art he saw. In addition, he uses birds, women and stars as primitive universal symbols that can be seen in each of his different eras. It's also important to remember that Miró consistently tossed aside scale and perspective in his paintings because he believed art had to be original due to its sacred attributes.
If you'd prefer to make your trip on the shorter side, stick to the ground floor where most of his iconic pieces are displayed. Upstairs is a walk through of his childhood and relationship with his parents, photos and postcards to his wife, and dedications to his daughter, along with the pieces that the family has loaned temporarily. And if you're bringing young kids whose eyes start to glaze after a couple rooms, there's a play area where they can interact with toys Miró designed and create puzzles and sentences with the shapes and words Miró uses in his art. Not to mention you can stop to refuel at the Fundació Joan Miro Restaurante.
What's unique about the Fundació Joan Miró is that Miró was alive at the time of its conception, construction, and opening which allows for a more personal feel. He also designed and created pieces like "Woman Looking Up at the Stars", a massive multi-textural installation, specifically for the museum.
Despite his passing, the beauty of Miró is that he transcends the limits of art movements and styles, as he masters nearly all of them in just one lifetime. The Fundació does an excellent job walking visitors through the life, legacy and impact Miró has on not only Spanish culture but the world as a whole. Bits and pieces of him are all throughout Barcelona, but this is certainly the greatest collection of them all.
By Leah Pratley
---
About the author
Hello! I'm a student at the University of Oregon studying abroad in Barcelona for 8 weeks. I'm excited to be here and contribute to Frikifish, which allows me to explore the city and all of the incredible art it has to offer. I enjoy reading, writing, going to museums, and the beach. That being said, I couldn't picture a better place than Barcelona. Hope you enjoy following along with me!