This new contemporary art exhibition coming to the Gothic Quarter next month invites viewers to consider self-empowerment as a means of navigating through a troubled world, where women are the protagonists as they find their primal strength to protect and create change.
The exhibition centres on a dialogue between the work of two artists, who employ theosophical-mysticism, symbolism, and their own experiences to explore self-empowerment and the ability to create courageous change.
Their artwork explores a diversity of constituents including nature, faith, immortality, rebirth, spiritual energies and ancient mythology and the connection between humans with the divine realm.
Two Woman Artists
Sonia Carballo
www.socatoba.com
Sonia Carballo (1979, Badajoz, Spain), whose artist name is @SOCATOBA, lives and works in Barcelona. She's the putative daughter of Spanish modernism and 'daughet' of Francisco de Goya, in her intimate manner of exposing how humans discover and acknowledge and discover its own atrocities. Atrocities that she bears in her own body, a canvas and witness to suffering and history. In Socatoba's work beauty and pain dance an ascending copulative waltz. The ascension towards an esthetic and linguistic objective: showing the deep human condition in a universal and timeless manner.
Nothing universal can be always full of beauty, on the contrary. In her work, Socatoba doesn't wish to separate ugliness from beauty, pleasure from suffering. She obsesses, she makes an ongoing tribute to the forgotten and the excluded by the ultra-industrialized society where 'the civilized' compulsively lies about themselves. Socatoba doesn't lie, Socatoba doesn't hide; she's an artist who points a finger through beautiful and balanced drawings; beautiful, yet full of tension and contradiction, on issuessuch as prostitution, violence against children, mental or physical illness, etc. These characters become true 'saints' of our civilization, martyrs of our hypocrisy: martyrs of our chronic disinterest.
Andrea Mindell Cohen
www.andreamindell.com
Andrea Mindell Cohen (@andreavisionarte), is a Spanish-Canadian visual artist based in Barcelona. She received her BFA from Otis/Parsons College of Art and Design in Los Angeles, Ca. and a degree in fashion-textile design from the International Academy of Design and Technology in Toronto, Canada, along with her studies abroad in art history and photography at Lorenzo de Medici School in Florence, Italy.
Once a fashion and textile designer, now diversified artist works across disciplines combining various types of printmaking, drawing, painting and textiles to create immersive installations and paintings. Cohen´s artwork is deeply influenced by her Spanish/Moroccan heritage. Through her work, she pursues to challenge the traditional identities and gender roles ingrained in the Sephardic (Spanish/Jewish) culture, and seeks to construct new meaning in the images she creates. The women in her work become archetypal representations telling their stories through layers, while revealing hidden truths.
She continued her art practice at the Zaritsky Artists House of Printmaking and Surface Design, in Tel Aviv and later a residency in lithography and printmaking at Quadrat 9 in Barcelona. Currently residing in her home in Barcelona with her family, Andrea's vision continues to evolve, drawing from her own colorful upbringing and extensive travel, steeped in a combination of traditional and contemporary cultural influences.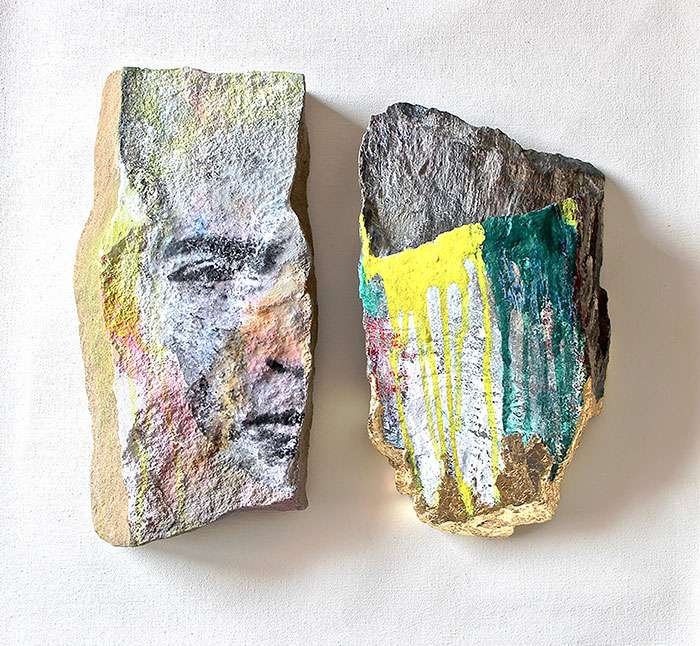 Where and When
BienCuadrado Art Gallery, Gothic Quarter
Carrer d'Ataülf, 14, 08002 Barcelona
The exhibition runs from May 19th – June 18th.
Press is welcome at the opening reception Thursday May 19 at 19h- 22h.