After a month of talking to artists, walking through galleries and admiring individual work and style, I felt an itch to create. Usually for me that itch is scratched by writing, a medium I'm comfortable with. But this time, the art gods and a woman by the name of Nicole Hofmann gave me the opportunity I didn't know I needed. The urge to build or do something of artistic purpose with my own hands was strong, and Nicole reached out just in time.
I attended one of her Wednesday classes and was lucky enough to have her all to myself (and thank goodness, for my skills weren't exactly up to par). We chatted for a while about her background and how she came to open up her own studio a half an hour south of Barcelona.
Originally from Germany, Nicole worked in the advertising field as an art director. Five years ago she took a ceramics class in Barcelona and fell in love. Last February she decided to open up her own studio in Sant Pere de Ribes, where finding a ceramic studio is far and few between. The space itself is beautiful in its own right, with the floor to ceiling shop window to bring in all the light, and the loft far bigger than it appears from the outside. With five wheels, two stylish display shelves, a long table lined with stools for hand building, and her very own kiln, it's everything a ceramicist could dream of. Not to mention the studio serves as a co-working space for people that already know what they're doing. In those instances, Nicole supplies the clay and the artists bring their tools.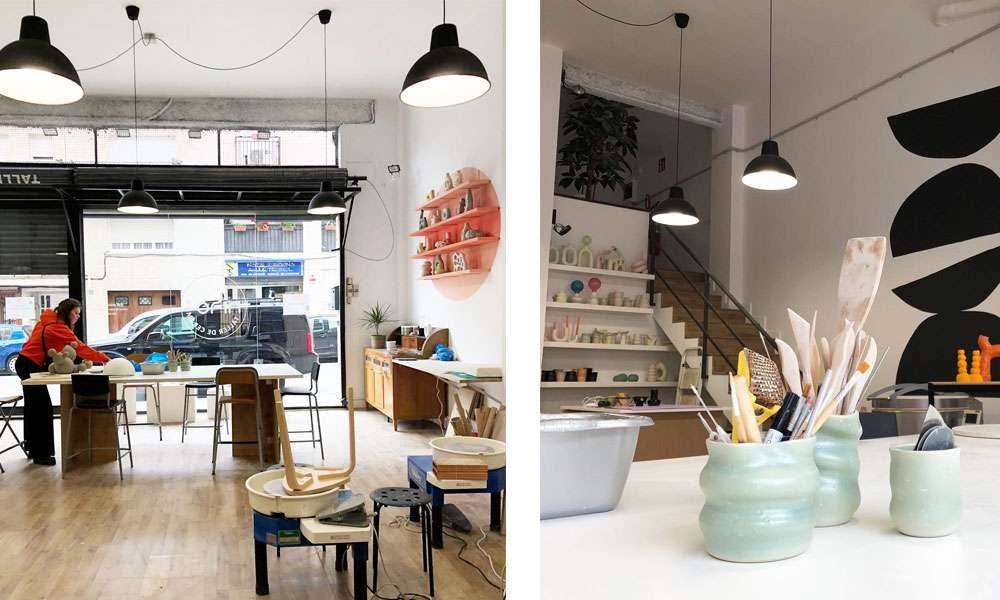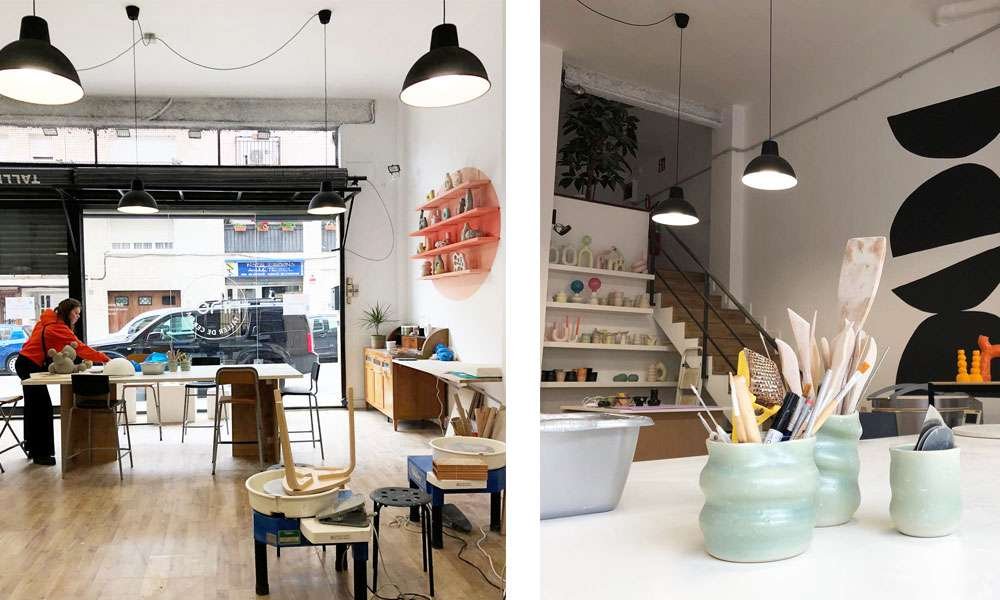 We started by cutting the clay into small mounds and kneading it with our hands to release any air bubbles and make the clay more malleable. Nicole did everything alongside me, which allowed me to learn and get a feel for the motions myself without just winging it. From there we walked over to the wheels, where I admittedly let out a yelp as she threw the clay ball we had just formed rather aggressively in the center of the wheel. She looked at me and laughed and said "you gotta make it stick!"
From there I started to catch on to this whole, "learn by doing" thing. We laughed together when I spun the wheel too fast, when my bowl began wobbling and especially when I managed to somehow decapitate the top of the sculpture I had created. Through every step, she provided guidance when I asked without telling me exactly what to make and how. There is a creative freedom in her class that was so refreshing and made the process all the more exciting.
Every time I would be proud of the balanced shape I had finally created, Nicole would say "great! Now break it down and do something else." She said it plainly and explained that in her classes lots of students will be pleased with their first bowl shape and say that they're done. But Nicole believes it's important to get outside of your comfort zone, by creating and destroying over and over until you get something unique. As a stereotypical Virgo and perfectionist since birth, this was a challenge for me. But sitting there, hands hovering over the wheel and testing out different methods felt freeing. I wasn't obligated to make anything perfect. Heck this was my first time on a wheel since I was 12, I could try anything!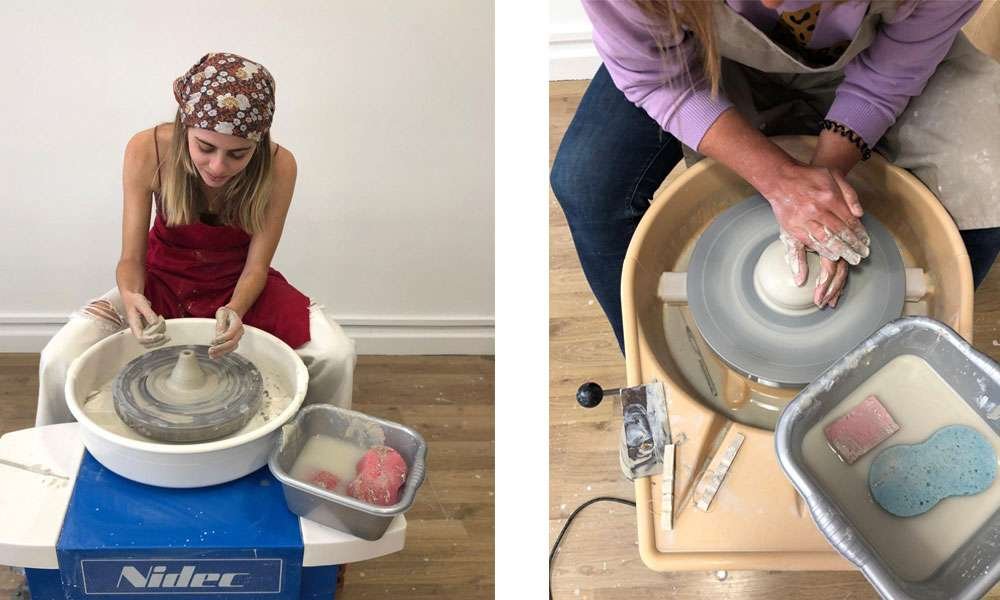 I think it is this curiosity, creativity and open mindset that allows Nicole to create such unique pieces. The bright colors, abstract shapes and funky textures are what make her household items works of art. And though she creates bowls and plates for restaurants and other clients, Nicole prefers to create functional items like lamps, vases and candle holders. What makes her work stand out is that while most of her art is functional, each is a striking sculpture in its own right.
In case you haven't caught on yet, her method is all about experimentation. When it comes to the materials and personal process, she said, "I start with abstract shapes on the wheel and change them to anything I want afterwards." When showing me around the studio she pointed out a beautiful collection of mugs and added that she experiments with glazes which create the gradient effect seen on many of her pieces. She often makes her own textured glaze and tries out different ingredients, adding a little more color and then subtracting some to test them out and figure out how much is needed to achieve a certain intensity.
The theme of Nicole's process? "I like to take the risk and enjoy the surprise of what's going to happen."
I couldn't recommend her class more. As a beginner, she was incredibly reassuring and inspiring throughout the process. I had so much fun working with something from scratch, and it felt incredibly grounding and human. Niho hosts continuous pottery classes for two hours every week on Tuesdays, Wednesdays and Thursdays and also offers wheel throwing taster courses (four hours) and intensive weekend courses (eight hours). To get in touch with Nicole in order to book your space at Niho Ceramics, call her at 64 55 66 509, or visit her website.
By Leah Pratley
About the author
Hello! I'm a student at the University of Oregon studying abroad in Barcelona for 8 weeks. I'm excited to be here and contribute to Frikifish, which allows me to explore the city and all of the incredible art it has to offer. I enjoy reading, writing, going to museums, and the beach. That being said, I couldn't picture a better place than Barcelona. Hope you enjoy following along with me!