Two of the most defining and strongly settled phenomena characterizing modern Barcelona are its vibrant skateboarding scene and the Maker Culture. Both have taken over the city like a barn on fire, splashing the map with numerous locations to get involved. But is there a fun way to combine these activities?
A limited number of initiatives have managed to successfully answer this question, providing workshops for designing and making your own customized skateboard decks.
AymaBoards, the personal project of the dynamic entrepreneur Esteve Ayma, is a clear example of the success and good reception this activity has had in the city.
The road to AymaBoards
Graphic designer by trade, Esteve's detour into a five-year woodworking career is the result of an unusual alignment of factors;  his instinctive love for board-sports, his flat-mate's jigsaw lying around the living room, some pieces of scrap wood found in the streets, and plenty of time to kill. It all came together to provide the perfect breeding ground for Esteve's first attempt at making a handmade skateboard.
Encouraged by personal satisfaction and the positive reaction of his friends, Esteve decided to step up his game, join the ranks of the TMDC woodworking community, and teach himself the art and craft of woodworking. This triggered the release of AymaBoards—after his family name—as well as the launch of Aymaboard workshops, helping people to create their own custom skateboards.
The House of Wood
About a year ago, Esteve moved, together with five woodworking colleagues from the TMDC, to a cosier workshop.  La Casa de la fusta, as they named it—literally translates to The House of Wood—is a beautiful sawdust-scented workshop in the heart of La Sagrera neighbourhood.
The space is riddled with work-benches, all kinds of saws, drills, sanding and milling machines, finished products and ongoing projects, hand tools and everything required to fully dive into the wonderful world of woodworking. The workshop, with its careful organization, transpires diversity, creativity and infuses the visitor with a desire to be a maker.
Hands-on time!
Starting at 10:00 a.m. and with an estimated duration of 4 hours (depending on the size of the group and participant's mastery of the tools) the workshop commences. The class is suitable for all levels of expertise.  If you've never used a power-tool before, no problem. Esteve's focus on safety is meticulous, both at an introductory level and while operating the machines. If you're not confident about your abilities to operate any tool or machine, let Esteve know and you won't be left on your own.
Following a brief introduction to the history of AymaBoards and safety measures, a step-by-step program of activities commences: selecting a preferred shape for the skateboard (choose from four different shapes), transferring the shape onto the wood, cutting, drilling, milling and sanding the boards; and finally, coming up with and executing a unique design.
Throughout the workshop there's great jazzy music playing in the background and a highly energetic, enthusiastic environment that Esteve transmits to the group. His easy-going, cheeky-good-vibe-badass-skater-attitude prevented any rigidity or stiffness during the day, making it a very enjoyable and highly recommendable way to start the weekend!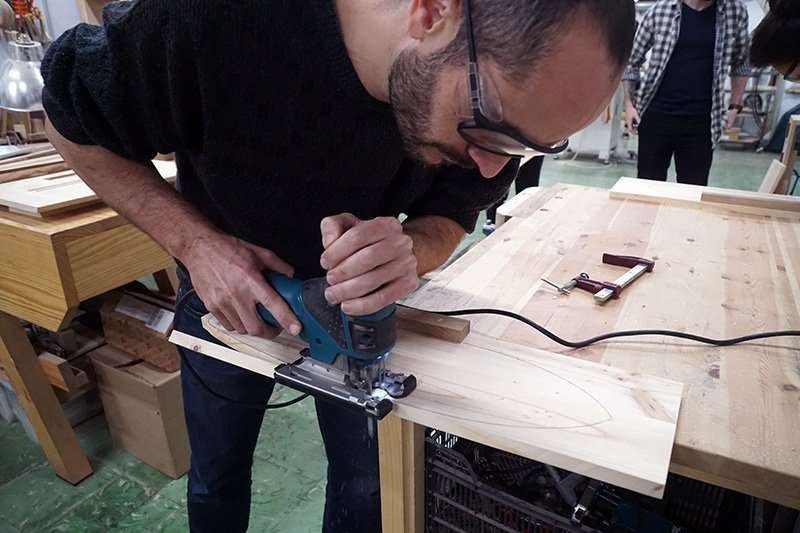 Points worth considering
Are AymaBoards right for you? of course they are! However, if you have a very clear and defined type of skateboard in mind - such as a longboard, or a street deck for tricks - it may be worth checking first. AymaBoards come in their own materials, shapes and sizes and won't cover the full range of skateboarding options available out there.
Pre-designing your board - There's nothing worse than ruining the board you've worked so hard for in the last minute!  Trying to come up with a fancy design at the last minute is not recommended. Have a clear idea of what you want your board to look like and you can spend more time executing your design.
Planning on skating back home? The cost of the workshop includes the board itself, but not the trucks, wheels, bearings and bolts. But you're in luck! Esteve has pre-built sets available for purchase for those who cannot wait to jump on their new skateboard.
For more information about workshops and custom-made Aymaboards, visit his website at www.aymaboards.com.