A friend recommended this exhibition to me, she said she liked it so much that she visited more than once. I hadn't heard of Morandi before, so I jumped at the opportunity to discover a new artist in one of Barcelona's most emblematic buildings—Gaudi's Casa Mila (La Pedrera).
Giorgio Morandi (1890-1964) was an Italian print-maker and painter specializing mostly in still life and a few landscapes. He explored different styles and techniques over the years, taking inspiration from French and Spanish painters such as Cézanne, Derain and Picasso.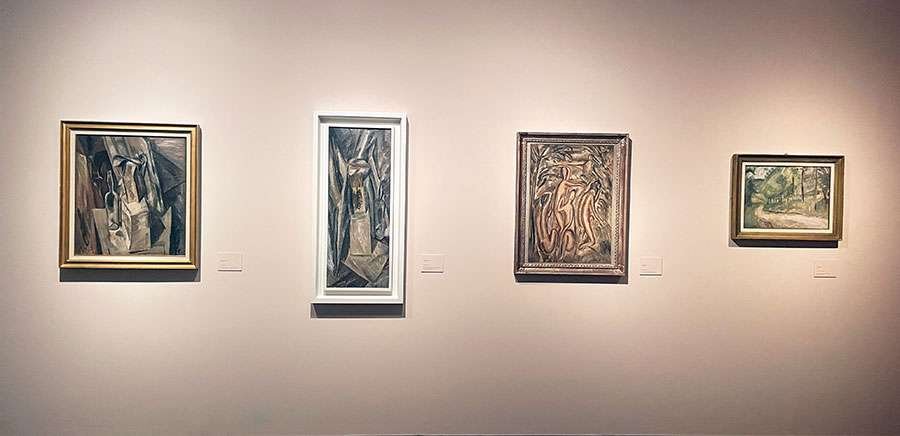 His subject matter was everyday objects that could be found in any kitchen—jars, bowls, bottles and vases. These objects lack any identifying marks such as labels; focusing just on the shapes and their shadows. His compositions are deceptively simple, but he would obsessively paint the same objects over and over again, changing the perspective and placement.
He experimented with different combinations of these same objects, overlapping and placing them next to each other in a variety of ways, looking for the right medley of forms. Sometimes he would recreate the same image, but using different techniques (etching and oil painting for example) and over the course of years. This exhibition is a unique opportunity to see these artworks side-by-side.
Morandi's paintings are characterized by subdued colors and subtle tones, sometimes working with only whites and greys. Some of his 'brown paintings' struck me as being so monotone that it was hard to differentiate the object from the background. However, his 'non-color' paintings manage to acquire a beautiful and varied chromatic value, with nuances of ivory, pearl, pink and grey in the compositions.
His visible brushstrokes are also an important part of his compositions. Sometimes they're so obvious they almost look as if he finished the painting in a rush, but this completely contradicts the zealousness to which he approached his work.
Giorgio Morandi's paintings are the work of a thoughtful, dedicated soul who was obsessively devoted to his painting. His works were well-received during his lifetime – winning first prize at the 1948 Venice Biennale and in the 1957 São Paulo Biennale and featured in La Dolce Vita by Italian filmmaker Federico Fellini.
This is an exhibition that you want to take your time in, or perhaps visit more than once as my friend did. Morandi's paintings are deceptively simple and discreet, requiring openness and awareness to properly absorb and appreciate them.
This temporary exhibition at Casa Milà-La Pedrera runs until Mar 22nd in the exhibition hall on the second floor. Entry is 8€, open Tuesday to Friday 10am to 7pm. You can learn about this exhibition and others in our events calendar and you can purchase your tickets in advance here.