Galería Joan Prats is a pioneer contemporary art gallery that's been working with international artists since 1976. The current show "Hole in the Ground" is open until July 29th. I highly recommend carving a couple of hours out of your day to see the experimental, intriguing art this gallery offers. Upon first entry, the white-walled gallery appears small but opens to a vast main space, almost like an optical illusion. 
"Hole in the Ground" is a title inspired by a David Bowie song that references the "relationship between territory and materiality". The exhibit touches on everything from the "ground" of specific homelands to the everyday concrete we walk on. This show explores the relationship between humans and architecture through striking visual pieces made with various materials—everything from mattress to silicon to cement.
The materials are diverse and exciting, from Hannah Collins's large-scale black and white photographs to a literal box of "homeland" or dirt on the ground. Hole in the Ground includes works by six artists (three well-established artists and three younger artists); Cabrita, Camila Caneque, Hannah Collins, Pablo de Pozo, Mercedes Pimiento, and Fernando Prats.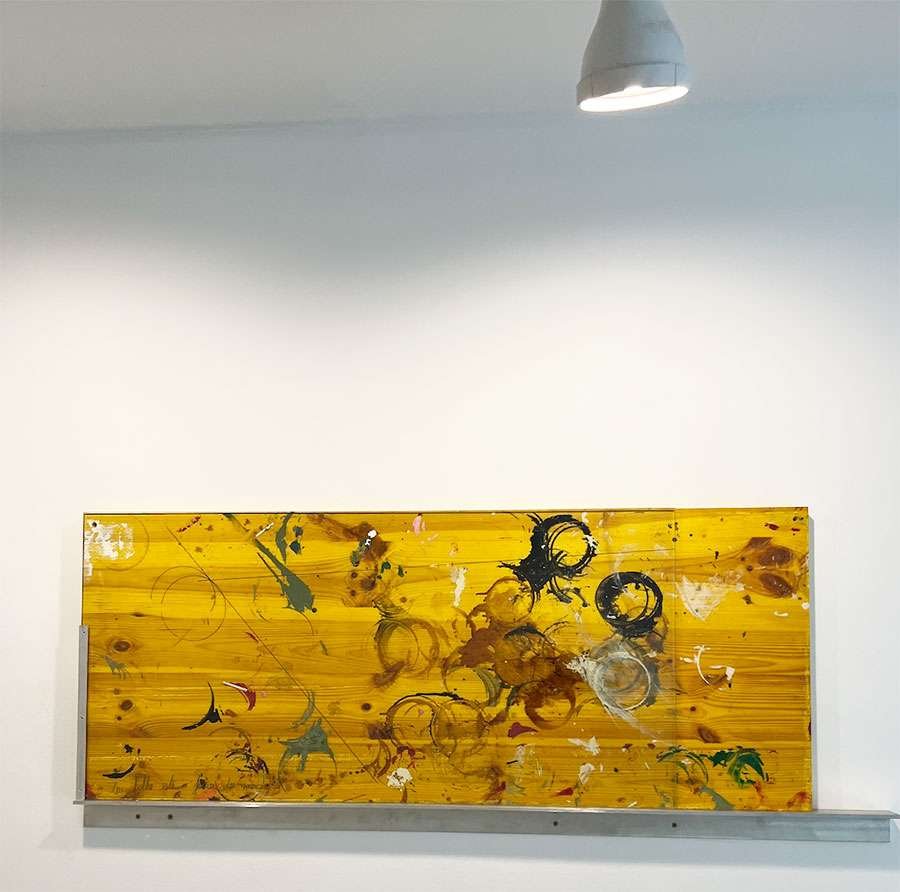 The opening piece, Cabrita's "Fingerprints" was made using industrial materials the artist found around, such as wood and glass. Fingerprints took everyday objects and gave them a new life. Cabrita focuses on reinventing what is considered painting and sculpture, and the piece gets more interesting the longer one looks at it and sees its distinct elements.  
The next pieces were hanging from the ceiling. Pablo del Pozo's work was made up of three suspending sculptures representing the pig as a symbol of his hometown and origin. He also had a pigment box representing the "surface" or soil from which he came. These experimental installations are interesting when you take the time to understand them or even guess their meaning. The exhibition makes one ask the question- what is art? Is it a box of soil? Who gets to decide, why, and what power dynamics might this reveal?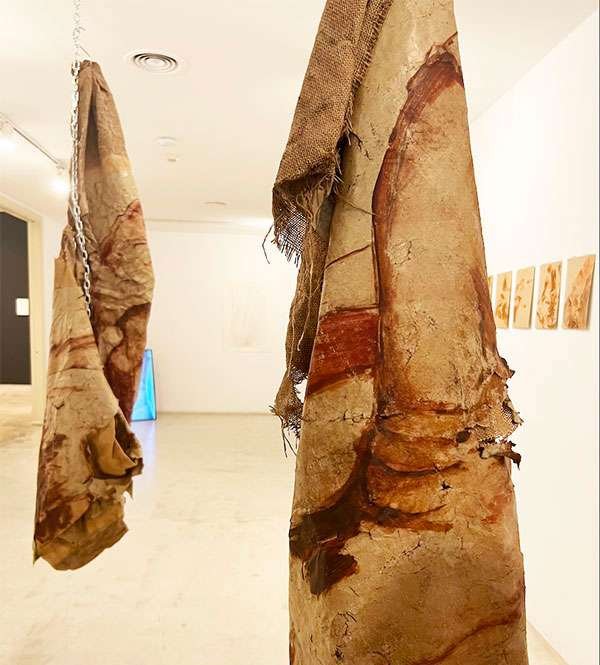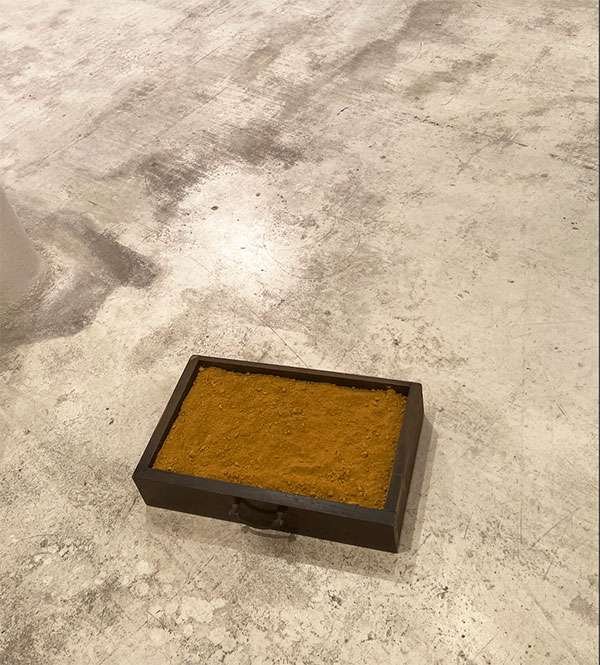 Another standout piece was by photographer Hannah Collins. She had two photographs in the exhibition. The first, "Nomad", was taken in the 90's in London and was a portrait of a Nomad in which you could never see the face well. Collins' work aims to bring light to certain marginalized groups and focus on the character's surface. Her other photograph, "Field of Dreams" continues this goal as it was part of her project on a gypsy neighborhood in Barcelona, another group she reveals the everyday life of. She focuses on the "surface" of these groups and pushes you to learn more about them and their lifestyles.
As I explored the gallery further, I witnessed a video of someone walking down the stairs. While some may see this video as simple, it speaks to humanity's connection with territory and design when put in the context of the gallery. Works like this by Fernando Pratz explore the relationship between person and architecture. Pratz's experiments with materials make one question what can be defined as art. In his other work, a monochrome oil painting on canvas, he uses smoke as a medium. The smoke's influence makes the painting a striking piece that you can't help but stare at. Some of the most exciting art is when you are baffled as to how an artist did it, and Pratz's "oil and smoke" technique accomplishes this. 
The last and perhaps most striking piece was Camila Caneque's work "ground on ground on ground". It is three layers of ground in one piece. Its geometric aspects and variety of materials make it a confusing but alluring piece. This piece most directly addressed the exhibition's theme of surfaces as the blue layer sits atop the gallery floor, and a sidewalk chunk (with stereotypical painted white lines still attached) sits on top of the blue layer.
Galería Joan prats is a space for experiments and excitement, and if you are looking to glimpse contemporary and experimental art, it is the perfect place to explore.
By Kathryn Dorfman
---
About the author
My name is Kathryn Dorfman, and I am a rising junior at the University of Michigan, double majoring in Creative Writing and Psychology. I am studying abroad in Barcelona for 8 weeks and am so grateful to have the opportunity to write for Frikifish. As the granddaughter of two artists, I learned to draw before I learned to walk, and can not wait to experience all the art Barcelona has to offer. In my free time I enjoy singing, painting, and reading. I look forward to writing and hope you enjoy my discoveries!