Tucked in a corner of a quiet alley just off major streets in the Borne District is a hidden gem known as Fousion Gallery. After being buzzed in and going up a quick flight of stairs I was greeted by Jasmin Waschl, the genius behind it all. As an architect, designer and curator, Jasmin has an eye for artistic potential and in 2006 turned the second floor old belle etage into a workshop and studio.
Over the years, the gallery has gained local and international recognition, and it's easy to see why. Landing in magazines like High Fructose Magazine, which showcases an amalgamation of new contemporary, emerging as well distinguished artists, (with a spotlight on international spectacles) is proof of the powerful impact of Fouision Gallery and the trends that it inspires.
Fousion Gallery has showcased a variety of art, and it's worth noting that it was one of the first galleries to adopt populism and surrealist artists who stray from the norm. In the past few years, the gallery has shifted to more contemporary surrealist pieces, and the current exhibitors are entirely contemporary. Miss Van, a French surrealist, is one of the most established international female contemporary artists who has been working with Fousion Gallery since 2016. During my visit, Jasmin flipped through a book filled with work of accomplished artists who have come through Fousion Gallery's doors.
At the time of my visit, "Impulsive Intuition" had just wrapped up and I was lucky enough to see the collections of both Kenor and Julia Benz, contemporary urban artists featured in the gallery from April 7th to May 7th.
What makes Fousion Gallery stand out from the rest is the people working behind it. Jasmin was so kind and welcoming, and she keeps that energy with the artists she chooses to work with. She and her team care about the person behind the art consumer, which is demonstrated by the appointment only policy in order to take time with each customer.
Even more importantly, they care about the person behind the art. "We work with artists over a long term, the difference with us is that we work with them and promote them through events," said Waschl. "There is a culture here of sticking with them and cultivating them. We try to put them on the map and let them grow."
And they do grow. Kenor, one of the two artists featured, was one of the first abstract graffiti artists and a pioneer in his own right. Though he does studio art, most of his work can be found in public like on trains, streets like Princesa, and really all around Barcelona. His style is recognizable, each piece composed of geometric figures and lots of colors while still appearing crisp and clean. Kenor also enjoys techno beat music and it has a strong influence in his art, which is a genius way to combine two senses: the visual and auditory. "His paintings are full of sound," said Walsch.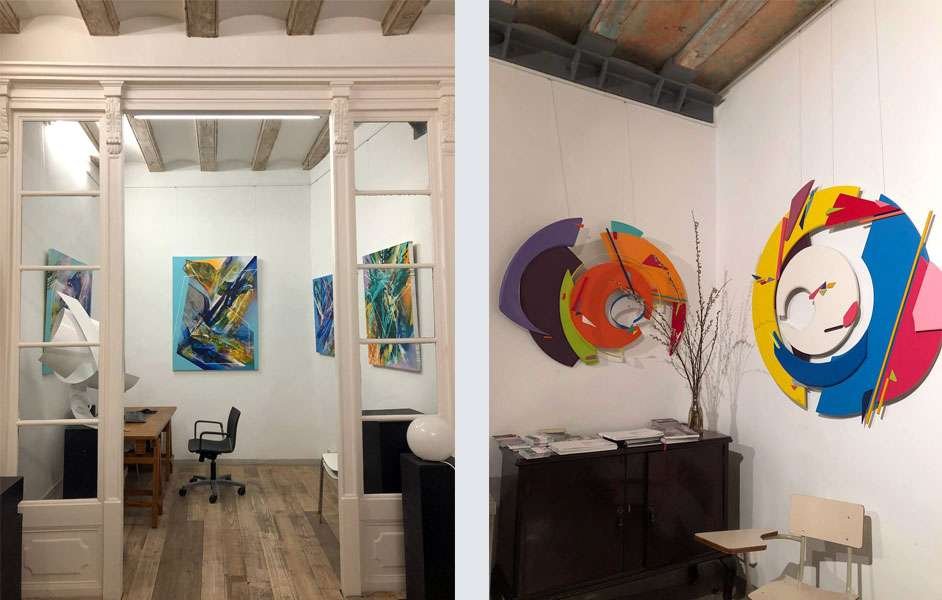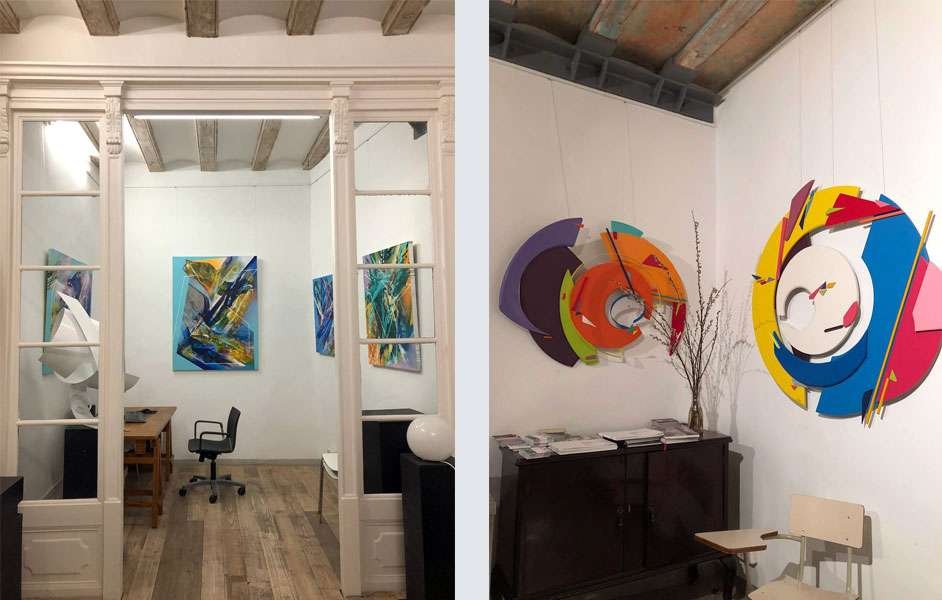 Julia Benz is the other talented artist in this exhibition. Benz has participated in numerous urban muralism projects and collaborated with central figures of the street art movement, but her studio work (some featured at Fousion Gallery) incorporates traces of urban canvas techniques while also taking inspiration from nature, outer space and bold colors. She has transitioned from using figures in her work to more abstract designs, which landed her a spot in Fousion's recent exhibition.
If there's one thing that's consistent about art, it's that it changes. Fousion knows how to adapt, which is why it will be participating in NFT BCN 2022 which "brings over cross-chain Art NFTs to a wider audience while proposing workshops and talks for the art world." Art NFTs are on the rise and Wasch has said "we want to stay in the art world but also be in this emerging world to establish ourselves there."
NFT Barcelona will exhibit 40 established and emerging artists in a 1200m2 exhibition space located at the very center of Barcelona, at the Reial Cercle Artístic. The goal is to bring NFTs to a larger audience that will encourage onboarding of art professionals into NFTs. For those interested, NFT BCN runs from May 26th to June 12th.
By Leah Pratley
About the author
Hello! I'm a student at the University of Oregon studying abroad in Barcelona for 8 weeks. I'm excited to be here and contribute to Frikifish, which allows me to explore the city and all of the incredible art it has to offer. I enjoy reading, writing, going to museums, and the beach. That being said, I couldn't picture a better place than Barcelona. Hope you enjoy following along with me!