Prominent Mexican duo "Doble E", composed by Edgar Mondragón & Erik López, are set to release their latest collaborative piece, "FLUX", a dynamic 4:47-minute audiovisual experience that aims to redefine the boundaries of sensory immersion.
The visual odyssey unfolds through the train's window, transforming it into a constantly evolving canvas. From green fields and industrial zones to bustling cities, "FLUX" immerses the audience in the duality of nature and urbanization. The collaboration reflects not only geographical shifts but also captures the cultural evolution experienced along the journey.
"FLUX" invites the viewer to contemplate the constant transition and the richness of experiences unfolding along the way, blending the ephemeral beauty of change with artistic expressiveness.
Global release Nov 27
Scheduled for global release on November 27, 2023, on Youtube, "FLUX" is an exploration of movement and transition, encapsulating the essence of a journey aboard a train traversing diverse landscapes. Erik López's digitally captured, edited, and processed videos seamlessly intertwine with Edgar Mondragón's musical composition, creating an enchanting narrative.
Join the artists on a sensory train ride as Edgar Mondragón & Erik López invite you to witness the world premiere of "FLUX" on November 27, 2023 at 14h BCN Time, on YouTube. Stay tuned! Hit the notification button to experience first hand a unique fusion of sight and sound, pushing the boundaries of immersion within the arts.
For more information, please visit the duo's LinkTree and make sure to follow them individually on social media, Edgar Mondragón & Erik López / IMGN.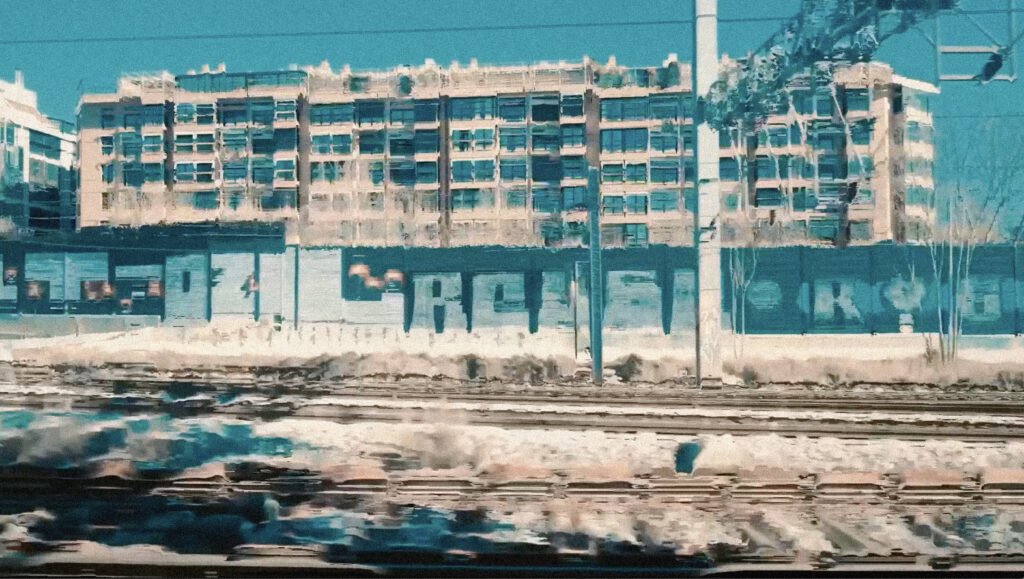 About "Doble E"
Edgar Mondragón & Erik López/IMGN, collectively known as "Doble E", form a dynamic artistic duo hailing from Mexico, blending the realms of electronic music and mesmerizing visual landscapes. With over a decade of creative synergy, Doble E has garnered international attention for their innovative approach to storytelling through the fusion of sound and visuals, having performed live for the first time in Barcelona, Spain, on September 2023.
Edgar Mondragón, the electronic maestro, boasts a prolific career with more than 20 releases and two acclaimed film soundtracks under his belt. Renowned as "one of the brightest lights in the Mexican electronic vanguard" by Marcos Hassan, a music critic, and writer at Remezcla, Mondragón's music defies ambient clichés, going deeper into contemporary themes and translating them into albums, EP's and tracks. Creating a unique sonic identity, fusing ambient, drone, noise, dream pop, lo-fi beats, and techno, has propelled him to international acclaim, gracing stages from Mexico to Japan, with notable appearances at festivals like MUTEK, NRMAL, SXSW, and Hipnosis. As Pitchfork aptly observes, "Edgar Mondragón's music is often jet-black, more attuned to the tensions of psychic turmoil than carefree bliss."
Erik López, the visual jockey behind IMGN, steers the ship into the uncharted waters of Digital Expressionism. His work, an experimental fusion of photography, video, and 3D modeling, creates live-processed landscapes that explore themes of the internet, cities, and architecture. Embracing a philosophy of excluding technical processes to focus on improvisation and intuition, IMGN's visual art mirrors the emotional and unconscious gestures of Abstract Expressionism from the 20th century.
Together, "Doble E" have forged an unparalleled audiovisual symbiosis that comes to life in live performances at esteemed cultural venues such as Centro Cultural España, Laboratorio Arte Alameda, and Instituto de Investigaciones Culturales, as well as globally recognized music festivals like MUTEK México+Japón, MUTEK Montreal, SXSW, NRMAL, and Hipnosis. IMGN's work has not only graced these stages but has also been featured on prestigious digital platforms such as Archdaily, KoozArch, and Homeostasis Lab.
As their creative journey unfolds, "Doble E" invites you to experience the convergence of sound and visuals, transcending the boundaries of artistic expression and leaving an indelible mark on the intersection of electronic music and digital art. For more, explore their art at their LinkTree and witness their visual stories on Vimeo.