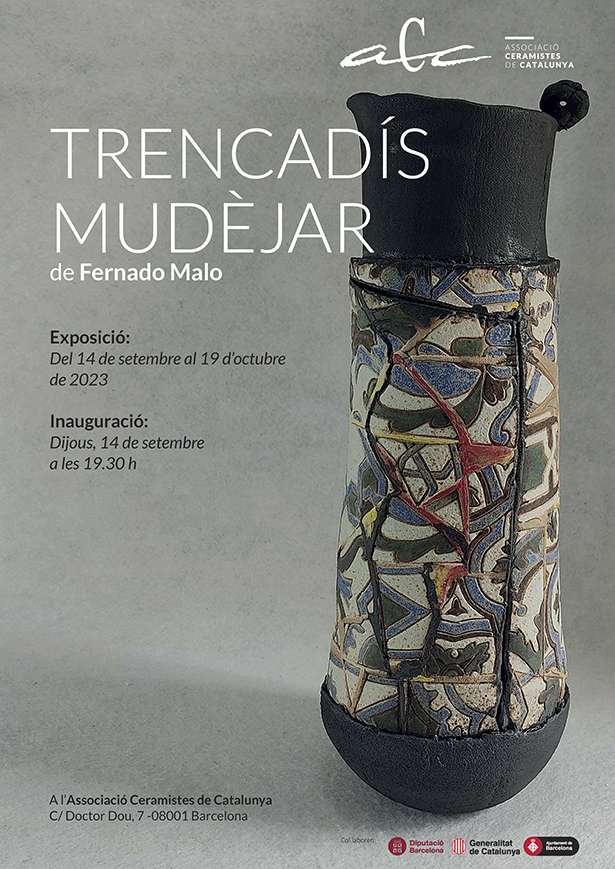 Fernando Malo – Trencadís Mudéjar
On September 14, at 7:00 p.m., the ceramic exhibition by Fernando Malo entitled "Trencadís Mudejar" will be inaugurated at the headquarters of the Associació Ceramistes de Catalunya, in Barcelona, which can be visited until October 19th.
After his time spent making copies of Mudejar tiles for restoration, one day it was time to play, deconstruct, and discover once again the magic of ceramics. The flat tile was adapted to curved surfaces, just as Gaudí and Jujol did with the Park Güell benches, a marvel to transform the dream into a reality of shapes, color and life.
"Not long ago, rediscovering Gaudí, I was able to get excited once again with the simplicity of the tile… What better way than to merge my Mudejar tiles with the trencadis! Two expressions with their own great personality, the Mudejar ceramics from my homeland where I live and work, and the trencadis from my second land, where I played growing up, studied and learned the trade. Ceramics, its language and its history, once again unite cultures, spaces and moments to share." – Fernando Malo
Fernando Malo (Zaragoza 1957) is considered one of the great Aragonese ceramic artists. Trencadís Mudéjar is the title of the Fernando Malo exhibition, which will take place at the Association of Ceramicists of Catalonia next September. Traditional ceramics have been his starting point when it comes to working. Knowing how to look at tradition from a contemporary point of view has always been a source of inspiration for artists. Fernando Malo began making tiles with Mudejar decorations -through ceramic restorations- until one day it occurred to him to merge them with trencadís.