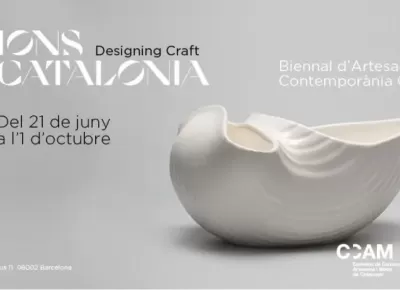 Visions of Catalonia, Designing Craft: Biennial of Catalan Crafts
Second edition of the Biennial of Contemporary Catalan Crafts with the exhibition entitled "Visions of Catalonia, Designing Craft". This biennial seeks to highlight crafts as a production method for everyday objects, beyond their merely decorative or aesthetic function, and shows how design intervenes to give them utility.
The main focus of the selected proposals is focused on the relationship between design and crafts, and successful cases are presented in various techniques, from ceramics to wood, through textiles and 3D printing. A total of 24 artisans and creators based in Catalonia participate in the biennial, presenting projects that combine both disciplines in a hybrid way. These projects incorporate elements such as the reduction of materials and objects, the use of local raw materials, production processes with zero waste, long-lasting products and dignified aging, as well as easy reintegration into the circular economy cycle.
The Biennial of Catalan Crafts is a project promoted by Artesania Catalunya of the Consorci de Comerç, Artesania i Moda (CCAM) of the Generalitat and with the collaboration of the Associació de Galeries de Catalunya (GAC), with the aim of promoting, positioning and internationally export the talent of artisans and artists from Catalonia.