Last weekend I headed up to el Bosc de Can Ginebreda, next to the beautiful town of Banyoles to attend the visionary l"Estrany Music Festival. This is a collaborative effort brought to you by local artists and musicians who come together once a year to co-create interactive installations and improvisational, innovative musical experiences. Their goal is to discover new trends, new talents and innovative proposals to offer the latest generation of culture in a privileged natural environment.
I first attended L'Estrany in 2014 and I was surprised to see how much it has grown in just a few years. One of my favorite installations was the Creation of Electronic Music (Creació de música electrònica). The experimental musicians sat in a small dome with musical instruments, toys and random objects used to improvise unique sounds non-stop for 10 straight hours. The experience was inspirational, hypnotic and meditative.

Unique erotic sculptures
L'Estrany takes place in a privately owned park—a peculiar forest packed with exotic, erotic sculptures created by local Catalan artist Xicu Cabanyes. There are over 100 pieces created from stone and cement in this open air gallery. Cabanyes is happy to let you roam his property on your own or he'll give you a tour of his work space (open to the public for 3 euros outside of the festival dates.) There's also a restaurant on site.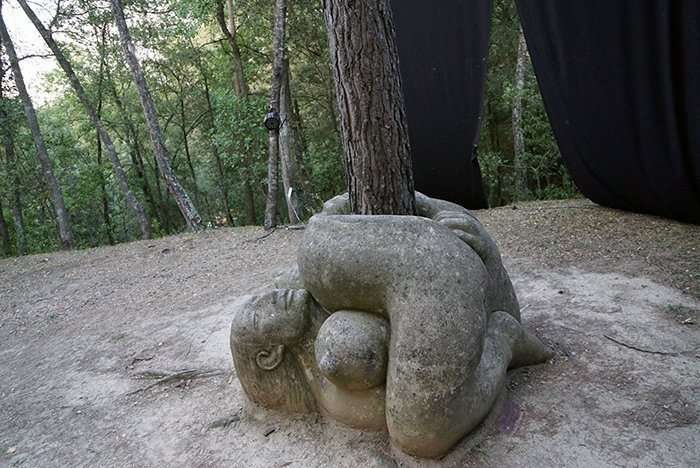 It's clear that Cabanyes' vision is to harmonize art with the natural surroundings and incorporate unnatural objects found in the area (up-cycled boats, metal, furniture, etc.), but he doesn't stop there. His work is provocative and surprising in their sexuality. Some his pieces only get better with age, such as El Naixement (The Birth), which is a woman lying on her back, legs up over her head, spreading her vaginal opening to facilitate the birth of a tree.
I highly recommend a visit to see the erotic sculptures and if you're in town during the month of August, there's no better chance to discover this forest than during the L'Estrany Music Festival. There's on-site camping for free and lots of activities and beauty to discover in the area. We opted for a swim in the Lake of Banyoles and a small swimming hole in a local river.
Update September 1, 2018: The organizers of the L'Estrany festival decided to make 2017 their last edition of this event.