This month Amaia Arrazola is painting a new urban art mural to unify art with a sustainable and inclusive city model. Art al TRAM is a project bringing urban art to the underground stops of the tram by the hand of the cultural entity Rebobinart.
Amaia Arrazola is the artist selected to carry out the mural work for this second edition, which includes two walls inside the Besòs de TRAM stop. The work began on June 7th and is scheduled to conclude at the end of the month.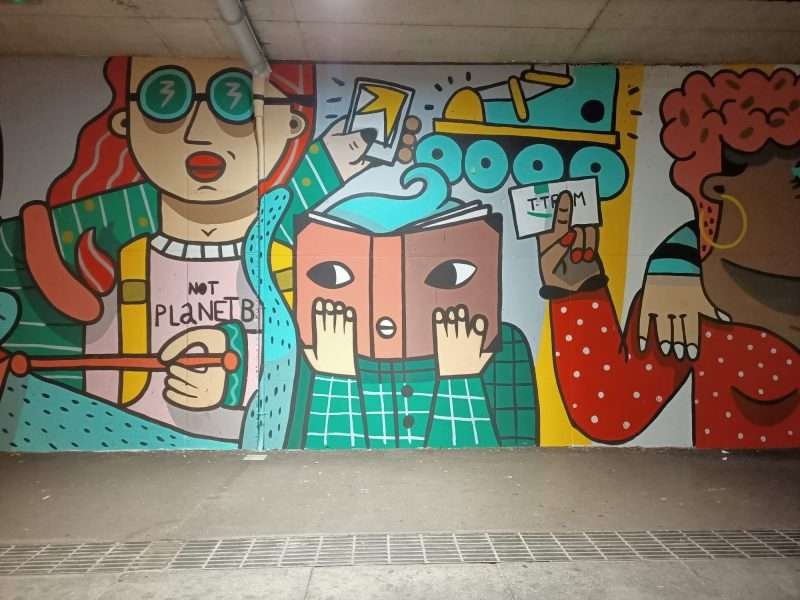 Art al TRAM is a project of high quality artistic interventions at various stops along the two TRAM networks, both in Trambaix and in Trambesòs. The aim of the project is to use art to revitalize these spaces and turn them into friendlier places. Thus, TRAM aims to reinforce social and environmental values ​​by bringing citizens closer to a city model based on sustainability, social innovation and inclusion through art and culture. This project began in 2020, with the work by Iker Muro at the Cornellà Center station.
Tribute to Barcelona
Amaia Arrazola's intervention, which can be seen at the end of June, will be a tribute to the city of Barcelona, ​​a modern, globalized, connected and inclusive city that does not turn its back on the environment. On the other hand, it will also represent the diversity of users who make use of the TRAM, thus managing to oxygenate the platform and connect the outside with the inside of the station.
TRAM has carried out a series of technical modifications inside the Besòs stop, in order to improve the visibility of the future mural.
Amaia Arrazola is an artist born in Vitoria who currently resides in Barcelona. She loves she has a great command of various techniques such as editorial illustration, mural painting or ceramics, from which she experiments and creates works with a great capacity for transmission. Her great ability to imagine and create has led her to publish two books in recent years.