According to the dictionary, 'home' is a word that relates to the place where one lives. However, every single person has a different understanding of it. There are specific sounds, smells, materials, landscapes, images, sensations or even people that one can associate with their homeland even though these might not be tied to a specific place and time.
So there is a complexity implied with the word 'home', as it acquires a subjective and often nostalgic nature. There are different layers incrustrated in each own definition of home that will accumulate and evolve from the day we are born until the day we die.
Driven by this complexity while gathering symbols, cultural representations and personal experiences, Roshni Kavate and Sejal Parekh joined their artistic practices in a recent exhibition to thresh out the semantics of the concept of 'home'.
'Present Tense' brought together visceral works from both artists, across sculpture, installation and video. Their works were connected by their exploration of sovereignty of the self, corporeal archiving and nostalgic futurism, to create new significances of what it means to belong.
Aiming to investigate 'home' as a conceptual idea and 'belonging' as a source, Sejal's current body of work revolves around 'hiraeth', a Welsh word that expresses longing, belonging, absence and homesickness. Although her work unfolds through the exploration of these feelings, she circumvents their usual nostalgic entity and focuses on the tensions that they depict.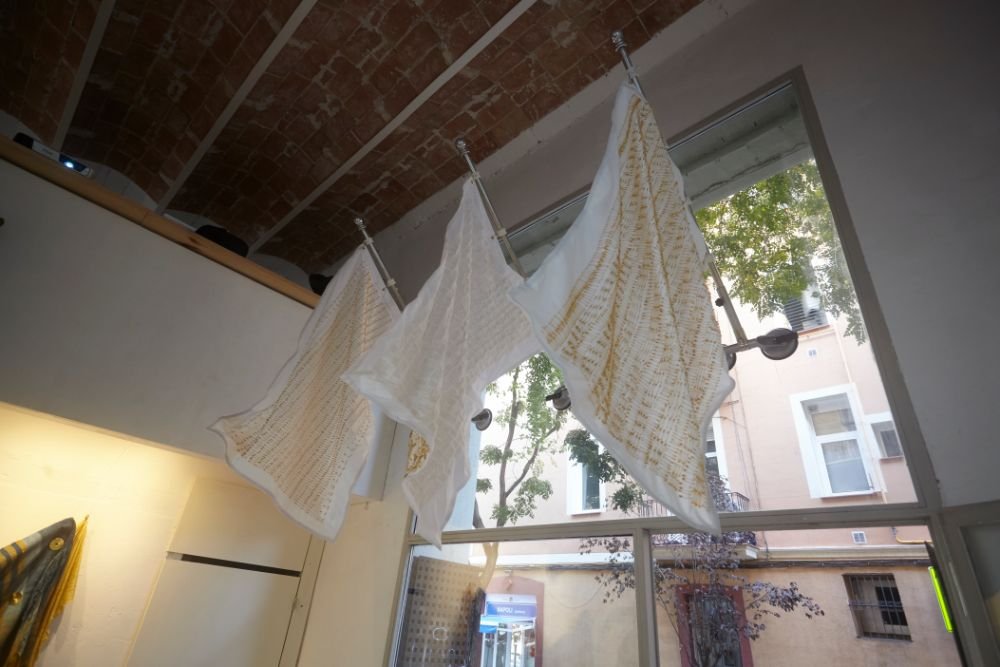 Her triptych of flags, 'Belong Nowhere', investigates the uses of ordinary objects to create familiar patterns through repetitive movements. While the fabrics are rooted in the movement of freedom and sovereignty, the safety pins hold them together gently, conveying a fragile gesture. Likewise, 'Water Has Memory,' the series of collages become sculptural pieces while combining different images of places in which she has found a duality in the word home.
"…they are a nod to my cultural ancestry in some ways. But mostly it's about trying to physically bring to life or make tangible something that is really intangible, whether it be memory, whether it's sensory, whether it's rooted in things that are very ordinary, and everyday for me, but kind of elevating them into something more." – Sejal Parekh
Roshni's practice arises from ancestral mark-making and exploration of the liminal space between us and the past and what is imprinted in our DNA. Her Indian ancestors were handloom weavers, so she and her mother work collaboratively with organic elements – such as natural dyes like indigo and marigold, grown from seed by her mother – and processes that involve their hands and enhance those traditions also connecting their corporeal archives.
By accumulating layers of textiles, materials and bodily experiences, Roshni's 'Liminal Geographies' becomes a sort of altar that invites the visitor to observe oneself and reflect upon their hidden marks. The video installation 'Constellations' drives us to a sensorial path that explores how bodies experience alchemy.
"A core part of my practice is collaborating with my mom who started to weave about ten years ago. My ancestors were silk saree weavers up until eighty years ago. There's an inherent memory that lives within our bodies and is activated in a visceral manner. I am exploring the tension between the domesticity of a communal ritual like weaving and how it can also exist as a sculptural archive of imprints that exist within my body and imagination." – Roshni Kavate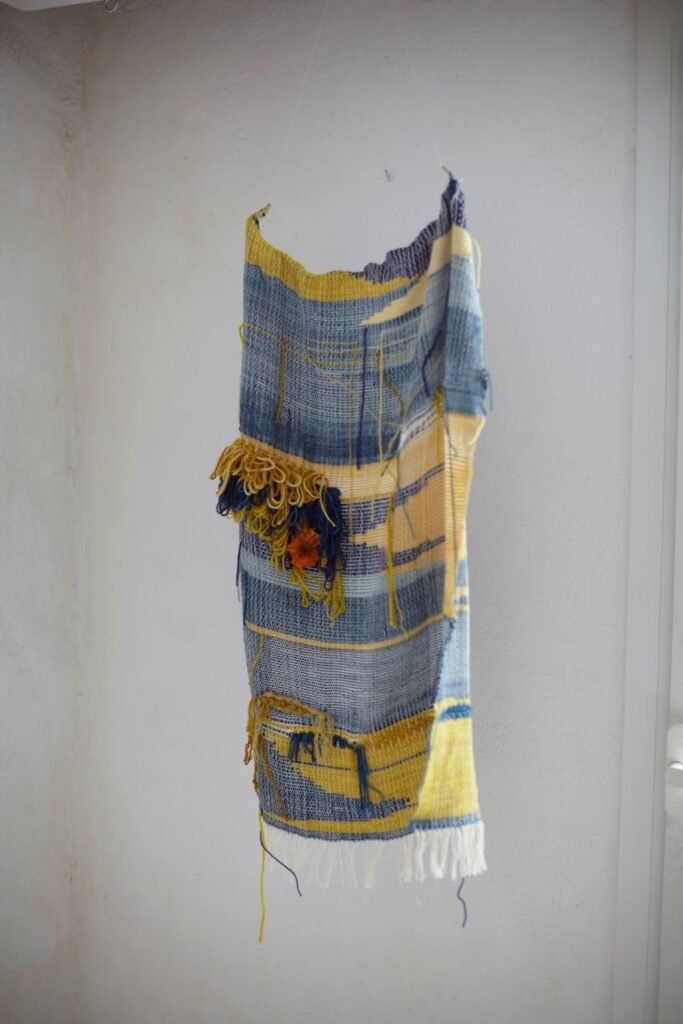 In 'Present Tense', personal background and experiences as well as embodied memories and feelings, remains for the artists as the means to explore their subjective and physical understanding of home. Throughout the exhibition, Roshni and Sejal investigate by means of the body, language and matter their instinctive insight of homeland in the present; as an undrawn territory that is continuously shifting and being negotiated through history, tensions, viscerality, movement and connections.
Now the exhibition has concluded, we encourage you to follow along with Roshni Kavate and Sejal Parekh as they continue unraveling new perspectives on belonging and connection. Their journeys, both individual and collective, promise to unravel new significances of what it truly means to belong.
Text by Carla Gimeno Jaria. Main image by Paroma Basu.
About the artists
Sejal Parekh (she/her) is a multidisciplinary artist, of British-Indian origin. A graduate of Fine Art from Winchester School of Art, UK (1st Class Honours, 2001), her practice is based in sculpture, often working on large scale site specific installations, video and sound work. She divides her time between London and Barcelona, she is a resident artists at Tangent Projects and has shown in a number of exhibitions and art fairs including SWAB (2022), 'Habitar Els Margenes' (2023) and will have a solo show at Stone Space Gallery, London, in May 2024.

Roshni Kavate comes from a lineage of South Indian artisans who worked communally to produce handwoven, plant dyed silk sarees. Born in India and raised in India and California, Roshni is inspired by the alchemy of colour, texture, history, modernism and craftsmanship. Her practice weaves together whimsical, moody reinterpretations of memory, place and tradition to reconnect with her ancestors and their land. She works with culinary installations, textiles, clay, printmaking, plant dyes, inks and performance to invite viewers to experience the universality of their individual inner path. She recently completed artist residency at Can Serrat in Catalunya and Tangent Projects studios in Barcelona.