In the eternal war between Madrid and Barcelona—constantly fueled by the double nationalist politics of the day—it seems that the capital has once again taken the advantage. The 80's were all about the scene in Madrid, the 90's belonged to the Olympic Barcelona and the 2000's seemed evenly distributed. But in recent years the balance seems to have decanted again. At least as far as contemporary art is concerned. More and larger galleries, (many) more private foundations, a predominant fair or the unattainable shadow of Reina Sofia are some of the most obvious examples of this current advantage.
However, Barcelona does not give up. In addition to the organizations to host artist residences (see Hangar, La Escocesa, Piramidon, etc.) and some more or less recent additions (the galleries Bombon Projects and Espai Tactel at the head or the new management of Fabra i Coats by Joana Hurtado), independent projects of great interest have appeared (many of them private) that seek to revitalize an exhausted artistic fabric and, to a large extent, widely abandoned by public authorities and - why not say so - collectors. A culture of DIY, a mixture of passion, judgment and experience, which is, at least, worthy of admiration if not worthy of support. Neo2 collaborator, Aurélien Le Genissel presents some of the independent art spaces in Barcelona here.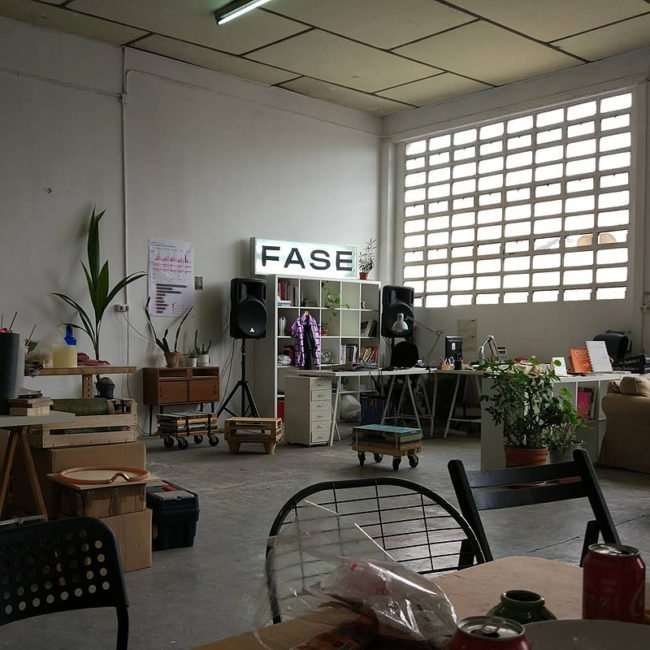 Fase
An artist studio, (mini) exhibition space, conference space for workshops and talks, and above all, a meeting place full of surprises where the most interesting of the next artistic generation of the city can be found. Located in L'Hospitalet—whose town hall is betting heavily on culture—on the outskirts of Barcelona, Fase was founded by artists Paco Chanivet, Patricia Fernández, Marco Noris and Patricio Rivera after finishing their residency in Hangar. More names have been added such as Mercedes Pimiento, Blanca del Rio, Pedro Eurrutia, Ricardo Cárdenas, David Franklin, Gisella Chillida, Elena Blesa, Margot Cuevas or Dolores Mendy. This large industrial hangar rents spaces for artists and curators, some of them already presented in galleries, such as Pablo del Pozo - in Joan Prats -, Arnau Blanch - Ana Mas Project - or Chanivet himself - recently signed by Espai Tactel.
In just over a year, it has become the best place to discover the youngest and most active scene in the city, especially thanks to external collaborations, such as the recent proposal by Eladio Aguilera at the Toro bar - "something between an exhibition collective and a gathering of friends "- in which Fase artists participated along with other prominent names such as Alex Palacín, Mónica Planes, Lluc Baños, María Alcaide, Jan Monclus, Estela Ortiz, Anna Irina Russell and many more. Their parties are the best we found, apart from having already acquired a certain reputation in the Barcelona scene. They're a must!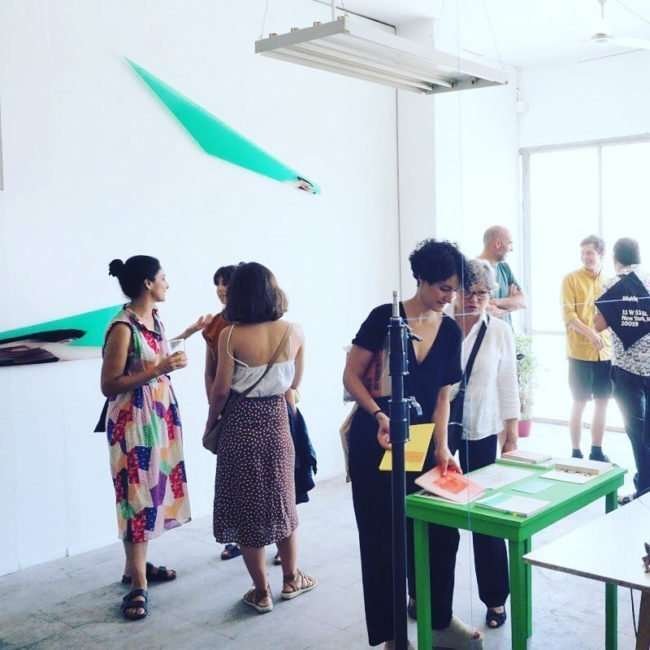 Trama 34
Very close to Fase, also in the city of L'Hospitalet—in the same building where the Ana Mas Projects and NoguerasBlanchard galleries are located—is Trama 34, which could be considered as a kind of older sister to Fase. A workshop shared by artists with a "mid-career" profile that brings together a magnificent selection of names: Maria Barros, Matteo Guidi, Samuel Labadie, Diego Paonessa, Germán Portal, Mireia c. Saladrigues, Mario Santamaría, Zaida Trallero, Adrian Melis, Denise Araouzou and Arash Fayez. Most of them already have a remarkable trajectory and it's always a surprise and a pleasure to be able to participate in the curious events they organize, such as La Solitaria, an exhibition that aims to short-circuit the public of the openings of their neighboring galleries. Or the monumental market (in honor of Martha Rosler's Monumental Garage Sale) and the AF-FAIR - or Another Fucking FAIR -, where they take advantage of a commercial event in the city - such as Gallery Weekend or Loop Festival, to schedule an alternative fair outside of the consumer circuit in proposing a collaboration -o un affaire– between artists and commissioners or collectors.
Tangent Projects
To finish the tour of L'Hospitalet, let's not forget Tangent Projects, a project originally founded and developed by Tsering Frykman-Glen and Laura Tammen that, after March of the latter in early 2019, has become a cultural association and curatorial initiative led by Frykman-Glen. In addition to renting studios for artists, the space offers a very interesting programme of exhibitions and activities. In its first year we have been able to enjoy interesting projects such as LYR by Irma Marco or Elastic by Marina Rubio.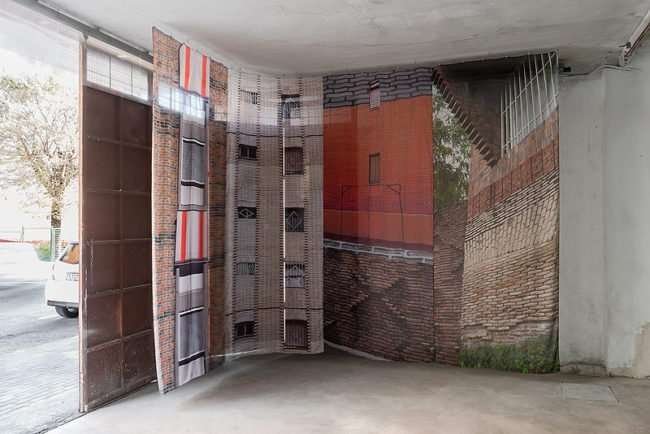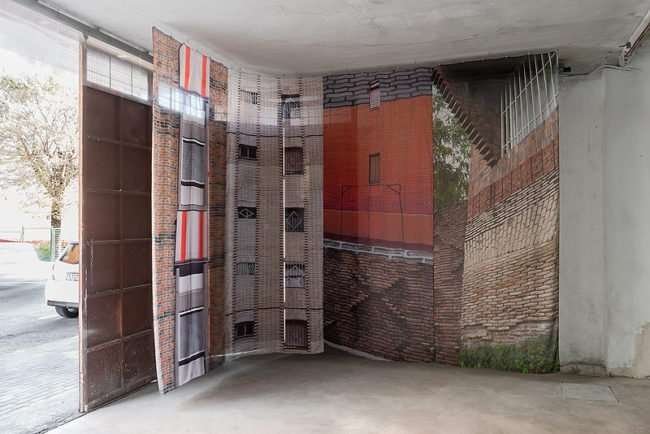 Dilalica
Back in Barcelona, we find Dilalica, an unusual gallery founded by Cati Bestard and Louis-Charles Tiar on the strategic Trafalgar Street. Unusual because, as they say, they do not represent artists but work on projects, in many cases related to external themes or institutions / events. This is the case, for example, of Espacio, the inaugural project / exhibition in which the guest artists, Luz Broto, Aleix Plademunt, Lara Fluxà, Claudia Pagès, Pedro Torres and Elsa de Alfonso, presented a piece directly designed in reference to the premises of the gallery itself, physically, conceptually and metaphorically.
Or Postcrisis, a project that interrelated architecture, visual arts and contemporary thinking through the work of eight artists who had produced different works using brick as a starting point. Presented in several places in Madrid—Alimentación 30, El Cuarto de Invitados, Nigredo, D11, Hiato, Casa Banchel y Nadie Nunca Nada No—the project was done in collaboration with the Faculty of Architecture of the Polytechnic University of Madrid. A new gallery model that arouses our curiosity.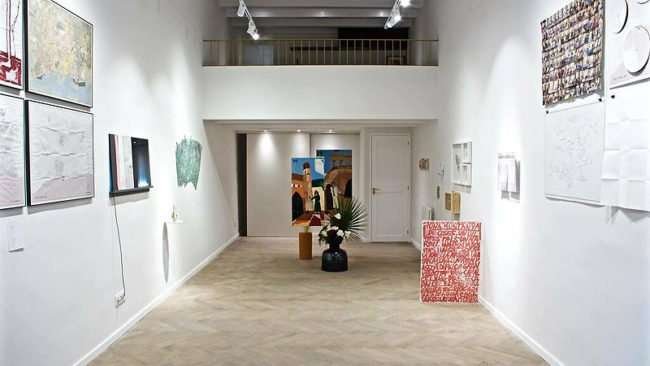 Chiquita Room
Another example of a hybrid and multidisciplinary space is Chiquita Room, located in the Barcelona neighborhood of Sant Antoni. Presented at the same time as a gallery, residence for artists, library, laboratory, studio and editorial, this contemporary art and creation center, founded and directed by Laura González Palacios, offers collective and personal exhibitions, workshops, concerts or talks always from an original approach, and novel, ranging from tarot (the Arcana expo (Los secretos del tarot)) to cartography (the inaugural project Barcelona Plan B). After a more than complete and jam-packed first year, surely whatever is to come will surprise us.
The Green Parrot
Let's not forget the return of the mythical project The Green Parrot. After a somewhat more complicated period - in which they left their historic space in the city center to be residents of the Tàpies Foundation -, this non-profit organization reopens a physical space in 2020. After an ostentatious benefit auction, with names like Ignasi Aballi, Daniel Steegmann Mangrané or Oriol Vilanova -long-time friends and collaborators -, all await news of its opening and of the programming that the always hasty and demanding criteria from Rosa Lleó, founder and soul of the project.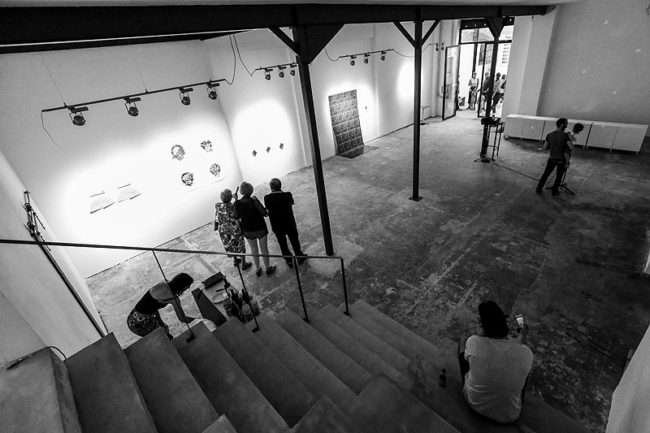 Alalimón
To wrap up, we're highlighting Alalimón, a new gallery, led by Rebeca Méndez - formerly of El Catascopio- and Isabel Lázaro - formerly of Art Deal Project-, on Mèxic Street, in a new area near Montjuic where it is trying to create a pole of cultural projects and creative spaces. Among their interesting young programming, we'd highlight "Greenfiels. The archive" by Pablo Lerma.
By Aurélien Le Genissel 
The Independent Art Spaces in Barcelona article first appeared in Neo2 Magazine. It was translated from the Spanish language and re-published by FrikiFish. Neo2 Magazine is an independent, 100% Spanish publication. Specialized in creative and urban trends since 1994. Its main sections are: Fashion, Architecture, Design, Contemporary Art, Gastronomy, Technology and Beauty. Follow Neo2 on Instagram >