Sisyphus, Escaping Tragedy Through Physics by Vanesa Muñoz
September 15, 2021

-

October 31, 2021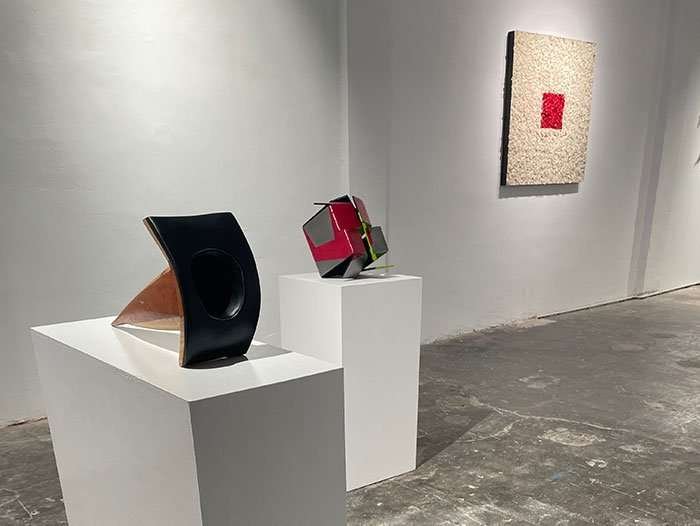 Vanesa Muñóz confronts her own figure as an artist and her work as a creator in this exhibition. To the usefulness of her work against issues such as the banality of art, the futility of the artistic object, the superfluous, the meaning of making Art …
It shows us the ability to face it through constancy and persistence, taking the figure of Sisyphus as a mirror. The punishment: pushing a rock up a mountain that, before reaching the top, would roll down again, repeating itself over and over again the frustrating and absurd process, hard work that must be done over and over again.
The philosophical concept of the eternal return serves to face reality.
Vanesa takes as a reference the conceptual versus the real of the eternal return. She discarding that reality in which repetition does not vary explained through physics. According to the entropy, energy would be lost in each repetition and would end up dissipating. And in thermodynamics a constant repetition would lead to a rise in temperature to destruction. Therefore in each repetition a variation would be necessary.
The Eternal Return is a philosophical conception of time, posed in the West in a way in which the world returned to its origin through a conflagration. Once burned, it was rebuilt so that the same acts would occur once more in it. For Eastern philosophy, existence continues to be a cyclical event, where each act, each moment and event will be eternally repeated. In contrast, in Eastern thought, the eternal return will lead to the perfection of the universe, since each fact will be polished at each restart until it is perfect.
Vanesa Muñoz clings to her vocation as an artist to face the constant struggle that is to face artistic creation. She does so by proposing to live the repetition of the creative process according to Nietzsche's theory of the eternal return. She willing her to repeat herself again, without fear, without regrets, she aware of every minute, polishing every moment and with joy.
Discover more creative events in Barcelona >