New Angels: Photographic Survey by Jorge Ribalta
July 20, 2019 @ 11:00 am

-

October 20, 2019 @ 8:00 pm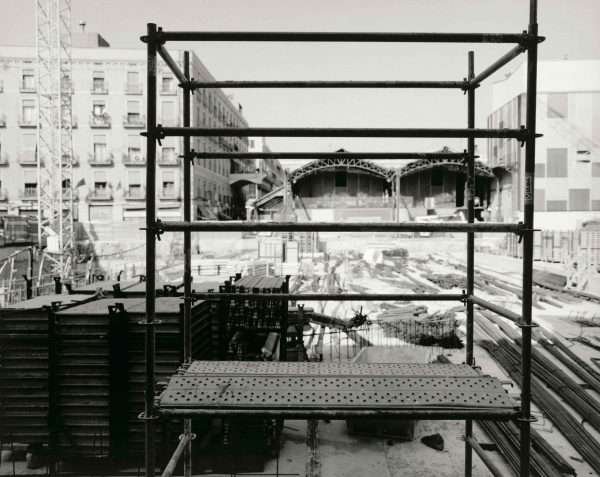 Scenes of the Renovation of Plaça de la Gardunya, Barcelona; 2005-2018
New Angels—a title inspired by Walter Benjamin's "angel of history"—is the first exhibition of the photographic survey carried out by Jorge Ribalta (Barcelona, 1963) of Gardunya square over a period spanning 13 years from 2005 to 2018, in which Ribalta pays particular attention to the alterations to the square's morphology and public uses.
Presented in reverse chronological order, the exhibition opens with the start of the first academic year at the then new Massana School in 2017 and the arrival in 2018 of the first residents in the new apartment blocks around it. It closes with photographs of the old square and of the rear of La Boqueria Market, taken in 2005.
Thus, the museographical itinerary resembles an archaeological excavation that brings to light earlier strata and remains of former people's lives, themed microstudies that are a record of different historical and urban episodes set in Gardunya square: the ancient gothic Convent of Santa Maria de Jerusalem, the old Academy of Medicine and the cemetery at the back of Hospital de la Santa Creu [Holy Cross], as well as of the Massana School's move from its old premises to its new building, designed by Barcelona architect Carme Pinós, and the construction of the small housing development.
In this respect, New Angels examines the metamorphosis of La Boqueria market and its surroundings under rising pressure from tourism, that is, the shift from traditional trade serving locals to a new urban economy sustained by global tourism.
The exhibition also includes a range of historical objects, photographs, publications and documents that contribute to the narrative.
This is a free exhibition. More information on the event website.
Check our calendar for more art events in Barcelona.