Juana Francés: Informalism Was Also Female
January 16, 2020 @ 10:00 am

-

March 28, 2020 @ 7:30 pm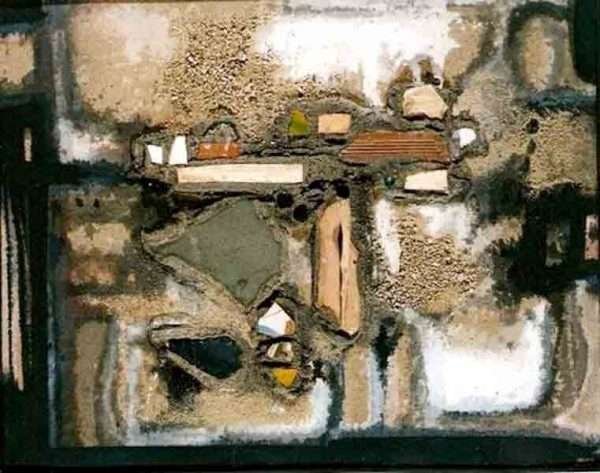 Mayoral presents "Juana Francés: Informalism Was Also Female", the first monographic exhibition in Barcelona on the artist from Alicante (1924-1990). Curated by Tomàs Llorens, the exhibition focuses on her Informal period and presents a selection of 14 works from different museums and private collections that highlight the great intensity and creative freedom of the only founding female member of the El Paso group.
The trajectory of Juana Francés could be a story of "how to be a woman and not die trying". 40 years of tireless work, experimentation and incessant search through different styles, always accompanied by the contempt of an irrational machismo.
Since her days as a student, when she organized an exhibition with colleagues from the Academy that a critic despised as "the ovary group".
The group that co-founded was El Paso, in 1956, a rebel collective of the postwar advanced art, along with Manolo Millares, Rafael Canogar, Luis Feito and Antonio Saura, among others. Although I would leave it a year later also because of gender rebuffs.
The Spanish postwar Vanguard was an unrepeatable phenomenon: a whole generation of artists that achieved unprecedented international success. El Paso from Madrid and Dau al Set from Barcelona traveled to discover the world and its trends, and it turned out that the second Vanguard discovered them. Their echoes reached MoMA, Tate or Guggenheim in NY that quickly included them in their collections, and dazzled in successive Biennials of Venice and Sao Paulo.
If in Europe it was no longer the spontaneous and febrile vanguard of prewar, but an academy anchored in the joie de vivre of the Marshall Plan, that generation of creators who moved in the "everything is prohibited" of the regime maintained the audacity and capacity of perplexity, and above all an amazing energy that became an international phenomenon.
A generation that launched itself into a vacuum without its own referents, unlike that of 27, which was catapulted from the previous 98, with everything against it, and with the only starting point of Pollock's abstract expressionism and the poetic essence of I look.
Of all this generation, Juana Francés was the only woman.
At this time, that of material informalism, the exhibition proposed by the Mayoral Gallery, with 14 extraordinary works, is centered.
Discover more events in Barcelona >