Horizons Exhibition – Gaby Grobo
March 5, 2020

-

March 25, 2020

Free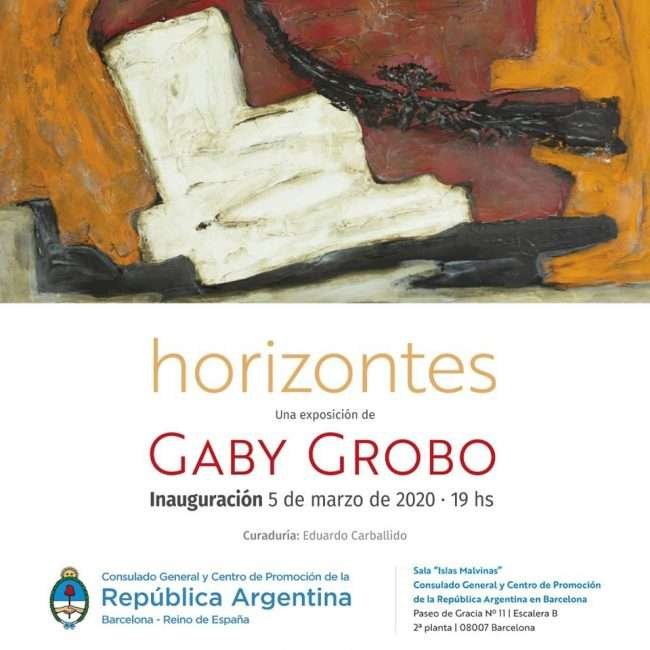 The Consulate General and Promotion Center of the Argentine Republic in Barcelona presents the exhibition "Horizons" by the plastic artist Gaby Grobo. An exhibition that toured several cities in Europe and the United States with a special imprint in each country.
The inauguration takes place on Thursday, March 5 at 7:00 p.m.
Gaby Grobo's work, at this stage of his artistic career, is born of a very precise environmental symbology in intimate relation to the icons contemplated during her adolescence. Earth, trees, mills, skies of Pampean horizons amalgamated by the strength of their strokes and the intensity of their colors. The nature recreated, recycled, in her work. The earth as the school of its perception, an emotional and creative vision that starts from the sensuality and dignity of the environment.
Her work arises from an experience linked to mechanisms of his consciousness with all those elements that nature brings. Structures that are transformed from their sensitivity, property provided by the land, without alteration, where only abiotic factors were allowed to intervene. In this series, roots take on a prominent role. The root that grows deep into the darkness of the ground sees the light in Gaby's work. The dead root that revives in another…
For more information about the artist: www.gabygrobo.com.ar
Discover more creative events in Barcelona >